StartingPoint Realty Receives Torch Award for Ethics From Better Business Bureau
Press Release
•
Dec 16, 2021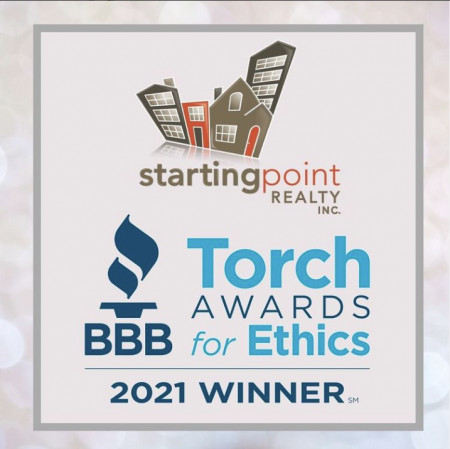 CHICAGO, December 16, 2021 (Newswire.com) - StartingPoint Realty, a client-focused, educational real estate brokerage serving Chicago and the suburbs, has been presented with the Torch Award for Ethics by the Better Business Bureau (BBB) of Chicago and Northern Illinois. StartingPoint Realty was just one of nine businesses in the Chicago area to receive the Torch Award in 2021.
The Torch Award is given to companies that display an outstanding level of ethics and integrity in all of their business dealings, exemplifying marketplace trust and excellence. The Torch Award also recognizes these companies for having a high level of trust among their customers, employees and communities.
"StartingPoint Realty has always been about putting people first," says Ryan Gable, CEO and Founder of StartingPoint Realty. "We're here to make sure people are well-informed and well-educated when they buy or sell a home. We want our clients empowered to make the best possible decisions for themselves. To be recognized by the BBB of Chicago is a tremendous honor, and the Torch Award reflects our commitment to doing the right thing for our clients, team members and business partners."
"The Torch Award is the most prestigious award the BBB can present to a business," said Steve J. Bernas, president & CEO of the Better Business Bureau serving Chicago and Northern Illinois. "Torch Award winners demonstrate the highest ethical standards and trust with customers, business partners, shareholders and the communities in which they do business. Being a recipient of this award indicates the company not only believes in the high standards promoted by the BBB, but consistently demonstrates and integrates them into daily business practices."
StartingPoint Realty began its mission to educate and empower first-time buyers in 2004, offering free public seminars and comprehensive guidance throughout the home buying process. Today, StartingPoint still provides free seminars throughout Chicagoland, and also serves home sellers with the same high level of informative, personalized guidance.
As a brokerage prioritizing people before profits, StartingPoint Realty takes a collaborative approach to doing business, with agents working together in the best interests of each client. Integrity, transparency and accountability are central to StartingPoint's success, along with a passion for helping people and a commitment to giving back to local communities.
****
For more information about StartingPoint Realty, call 847-348-1154, or visit the website at www.startingpointrealty.com.
CONTACT:
Contact Person: Ryan Gable, Owner
Company Name: StartingPoint Realty
Voice Phone Number: 847-348-1154
Email Address: RyanGable@StartingPointRealty.com
Website URL: www.StartingPointRealty.com
Source: StartingPoint Realty
Related Files