Start the New Year Off With a Bang at iCOMBAT in Fitchburg, Wisconsin
Press Release
•
updated: Dec 27, 2018
Pre-Party at iCOMBAT's Tactical Laser Tag Rave Sessions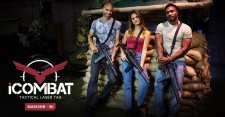 MADISON, Wisc., December 27, 2018 (Newswire.com) - Start the New Year celebrations at iCOMBAT in Fitchburg, Wisconsin, with special tactical laser tag "rave" sessions featuring an ultra-realistic first-person shooter experience on a Hollywood movie-style set using the same equipment and software deployed by SWAT teams and Special Operations teams around the world.
"Don't just sit around all day watching the games – get in the game," said Rick Jensen, CEO and president of iCOMBAT. "Start the New Year off with a bang by playing real-life 'Call of Duty.'"
On New Year's Eve, iCOMBAT will feature five special rave sessions where the adrenalin-powered competition is taken up a notch by the pounding rhythms of the players' preferred tunes. These New Year's Eve pre-party sessions will be at 4 p.m., 5 p.m., 6 p.m., 7 p.m. and 8 p.m. The cost is $30.
iCOMBAT's patented technology is so realistic that it is used for training by SWAT teams and Special Forces units around the world. The 16,000-square-foot iCOMBAT Madison facility is modeled after Camp Leatherneck, the U. S. military base in Helmand, Afghanistan. It features guard towers, a sniper's nest, real military vehicles, multiple exploding props and one- and two-story buildings on a fully immersive field with a 27, 000-watt sound system. Participants will hear helicopters hovering overhead and jets screaming by during an action-packed session with multiple missions. There is a lounge serving beer for observers to watch the competition. Scores and live footage of the missions will also be shown in the lobby on large television screens.
iCOMBAT Madison is located at 2919 Marketplace Drive in Fitchburg near the intersection of County Road PD (McKee Road) and Seminole Highway close to Breakaway Sports Center. More information about iCOMBAT can be found on their Facebook page at https://www.facebook.com/ICombatMadison or on their website at https://www.icombat.com/madison.
Source: iCOMBAT Tactical Laser Tag