Standing United for the Rights of All People
Press Release
•
updated: Dec 11, 2019
On Human Rights Day 2019, volunteers in some 60 countries raised the bar on human rights through education, activism, and raising awareness of the world's premier human rights instrument, the United Nations Universal Declaration of Human Rights (UDHR).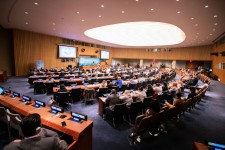 LOS ANGELES, December 11, 2019 (Newswire.com) - ​United for Human Rights, an international human rights nonprofit supported by the Church of Scientology, celebrated Human Rights Day 2019 by generating a whirlwind of activity, with more than 300 events lined up this week in over 60 countries to raise awareness of the Universal Declaration of Human Rights.
Although the UDHR was adopted on Dec. 10, 1948, violations of human rights abound: Human traffickers earn roughly $150 billion annually. Some 3 billion people survive on $2.50 or less a day. And nearly 80 percent of the population lives in areas where the right to religious freedom is highly restricted.
United for Human Rights (UHR) holds that education is the catalyst for changing the state of human rights. But this requires effective and engaging materials that are freely available and simple to use. By creating and providing these materials free of charge to educators, human rights organizations, religious and civic groups, law enforcement and other community partners, UHR and its program for young people, Youth for Human Rights International, is changing the paradigm and bridging cultural differences by generating understanding of the 30 rights everyone possesses simply by being human.
2019 has been a stellar year for United for Human Rights. Just a few of the highlights include:
At the program's annual International Human Rights Summit at the United Nations in New York, Nobel Peace Laureate José Ramos-Horta acknowledged Youth for Human Rights for addressing the challenges of extreme poverty, illiteracy and public health in East Timor by educating more than 25,000 children on the UDHR.
The World Summit of Nobel Peace Laureates awarded United for Human Rights President Mary Shuttleworth their 2019 Medal for Social Activism for her vision and leadership in bringing human rights to life for youth.
United for Human Rights participated in a Human Rights Day conference on December 9 and 10 at Palais des Nations, the UN Office at Geneva, and focused on the urgency of raising awareness of the Universal Declaration of Human Rights to bring about true reform.
Central to Scientology beliefs and tenets is a conviction that all people are endowed with the inalienable rights as set forth in the Universal Declaration of Human Rights. In accord with those convictions, United for Human Rights has grown to the largest nongovernmental human rights awareness campaign on Earth, providing materials to individuals, groups and government agencies in 190 nations. Its booklets and films educate youth and adults on the 30 Articles of the Universal Declaration of Human Rights in terms anyone can understand.
For more information, visit the United for Human Rights website, or watch documentaries about human rights activists on Voices for Humanity on the Scientology Network.
Source: Church of Scientology International