'Stand, Fight, Win': New Book by California Attorneys Keith A. Davidson and Stewart R. Albertson Describes How to Fight for One's Inheritance
Press Release
-
updated: Sep 5, 2018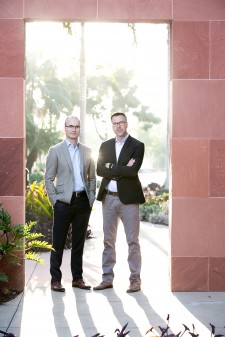 CARLSBAD, Calif., September 5, 2018 (Newswire.com) - The California law firm of Albertson & Davidson is pleased to announce that founding partners Keith A. Davidson and Stewart R. Albertson have published a new book titled "Stand, Fight, Win: How to Stand Up, Fight Back, and Win Your Rightful Inheritance."  The book focuses on people who have been abused as trust and will beneficiaries and provides meaningful options an abused beneficiary can use to fight for their rightful share of an estate.
Attorneys Albertson and Davidson are California lawyers who practice exclusively in trust and will contest lawsuits (known as trust and will litigation). Albertson has been practicing law for 14 years and Davidson for 18 years. "We felt the time was right to share our experience with the world," said Davidson.  Davidson believes that "trust and will disputes, and the abuse that many trust and will beneficiaries suffer at the hands of bad trustees, is becoming a growing problem in California."
"The hardest part for most clients is not knowing what rights they have or what actions they can take to protect themselves," says Albertson. "To make matters worse, most of our cases arise after the death of a parent or other loved one — meaning our clients feel loss, humiliation and despair."  
For the past eight years, Albertson and Davidson have maintained a legal law blog where they routinely post articles on the topics of trusts, wills and other estate issues. "More than anything, we want to educate the public about trust and will litigation so people understand their rights and their options," says Davidson. "Through this book, we want to give people hope. The title 'Stand, Fight, Win' is meant to empower abused beneficiaries or anyone who needs to stand up and fight for their rightful inheritance." 
"Stand, Fight, Win" is available for download on Amazon.com or through Albertson & Davidson's website at www.aldavlaw.com.
Albertson & Davidson is a California-based law firm that specializes in trust, estate and probate litigation. Among the types of legal matters routinely handled by the firm are abused beneficiary litigation, elder financial abuse litigation, trust contests, will contests and related trust and will lawsuits. Albertson & Davidson is California's leading plaintiffs firm that represents abused trust and will beneficiaries in contingency cases. Inquires regarding a consultation with an attorney can be made to any of the firm's five offices around the state.
Contact:
Keith A. Davidson
2175 Salk Avenue, Suite 190
Carlsbad, California 92008
Phone: 760.804.2711
Fax: 760.683.6496
keith@aldavlaw.com
Source: Albertson & Davidson LLP
Share:
---
Categories: Legal Services
Tags: California trust litigation, inheritance, trust and will, trust contest, trust litigation
---