Staffing Industry Leader NEXTAFF Opens Laredo, TX Office
Press Release
•
Sep 27, 2023
Owner brings over 17 years in marketing, real estate, and leadership to Commercial Staffing Agency.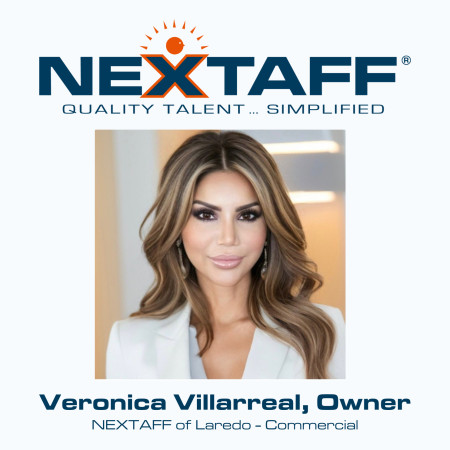 LAREDO, Texas, September 27, 2023 (Newswire.com) - NEXTAFF, an industry leader in providing quality talent for businesses, announced the opening of the commercial staffing agency location in Laredo, Texas.
The Laredo, Texas, staffing office is owned and operated by Veronica Villarreal and serves Laredo and the surrounding areas. The office will focus primarily on staffing and recruiting for manufacturing and commercial companies.
"I eagerly anticipate the positive impact our company will have on our community. Our mission goes beyond merely job placement; it's about nurturing that growth and achieving mutual success together," said Veronica Villarreal, owner of NEXTAFF of Laredo.
"Veronica has a real passion about making a difference in her community," says Cary Daniel, Co-Founder & CEO of NEXTAFF. "I believe anyone that comes into contact with Veronica is going to feel that genuine desire to help people and that should result in a fantastic business."
The office is located at 9114 McPherson Rd., Suite 2504, Laredo, TX 78045. More information can be found at NEXTAFF of Laredo, TX.
"In my community, I am all about recognizing the amazing local talent by bringing them together with great businesses," said Villarreal. "What truly drives me is creating the perfect match between companies and employees, ensuring top-quality service for everyone involved. So, when it comes to your hiring needs, you can count on NEXTAFF of Laredo to take your business to new heights together!"
About NEXTAFF
NEXTAFF helps companies recruit, screen and hire quality talent through our proprietary X-FACTOR™ model. Our comprehensive approach is designed to considerably outperform a traditional temp agency supplier model. Each NEXTAFF office is locally owned and operated, which allows our clients to work directly with owners in finding quality employees. NEXTAFF offers a variety of custom staffing solutions in commercial, healthcare and technology verticals.
For more information about NEXTAFF, visit https://www.nextaff.com/. Those interested in franchise opportunities can visit https://www.nextaff-franchise.com/.
Source: NEXTAFF