StackTek Expands Beyond Beverage Packaging Through Partnership With Meal Delivery Service, Yumi
Press Release
•
updated: Nov 8, 2017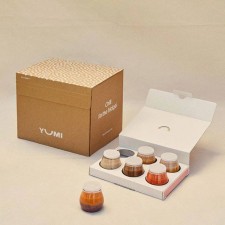 LOS ANGELES, November 8, 2017 (Newswire.com) - Innovative packaging company, StackTek, is pleased to announce their co-packing partnership with Yumi, the one-of-a-kind, fresh meal delivery service curated by experts for infants and toddlers. The partnership marks StackTek's official expansion beyond the wine category, an industry they've disrupted since 2011 with their recyclable, shatterproof PET containers that enable premium brands to offer portability and convenience.
StackTek's patented technology allows Yumi to deliver their organic purees and signature blends in single-serve portions, each individually sealed in BPA-free, reusable containers. StackTek co-founder, Jodi Ryan, immediately recognized how well-suited their cutting-edge packaging was for Yumi's fresh, ready-to-eat meals for tots, which often consist of exotic superfoods such as Japanese sweet potato and dragon fruit. "Yumi is an ingenious solution for parents who want convenience without compromising on quality, a key objective that was also behind the design inspiration of StackTek," said Ryan. "As pioneers in the single-serve packaging industry, we're highly attuned to new, revolutionary concepts in the food and beverage space. We're proud to team up with another brand that prioritizes innovation, efficiency, and quality."
We're proud to team up with another brand that prioritizes innovation, efficiency, and quality.

Jodi Ryan, StackTek Co-Founder
StackTek containers are engineered to snap together to form a 'stack' and are most recognizable to consumers as a premium and portable alternative to traditional, glass wine bottles. With high-grade PET and barrier enhancing technology which protects the quality of its contents, it was a natural transition for StackTek to extend beyond the beverage category and into food. "Since our inception, we've known that StackTek was an ideal platform for more than just wine," according to Ryan. "It's a great solution for baby food, but we're also excited to package snacks, candy, and even variety packs that would feature a combination of items."
Constantly evolving and pushing the boundaries of traditional packaging, StackTek offers co-packing services on its fully automated, state-of-the-art bottling line in Modesto, California, as well as licensing opportunities for customers who prefer in-house production and want to purchase their own equipment.
For more information, please visit www.stacktek.com.
Related links: helloyumi.com
Media Contact:
Shalay Clements
Phone: 714.870.1227 x72
Email: shalay@stacktek.com
Source: StackTek
Related Media