Srixon Announces New Generation of SOFT FEEL Golf Balls
Press Release
•
Jan 16, 2023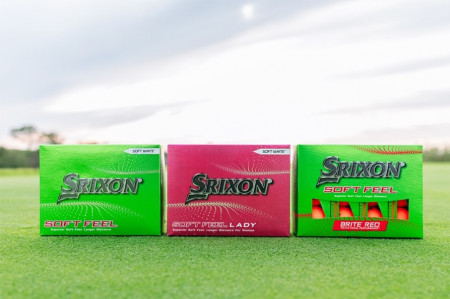 HUNTINGTON BEACH, Calif., January 16, 2023 (Newswire.com) - SRIXON®, a global leader in golf ball technology and innovation, is set to launch the latest edition of SOFT FEEL golf balls Feb. 16 in North America.
Srixon's SOFT FEEL provides golfers comfortable feel at impact and confidence at address. Equipped with a premium FastLayer Core, Speed Dimple Pattern and a soft, thin cover for enhanced greenside spin, SOFT FEEL delivers impressive ball speeds while balancing distance and feel.
"The consistent love for the SOFT FEEL has been tremendous and with each generation, this being our 13th, we've tried to incorporate new ways of providing golfers a softer feel that's unmatched in a low-compression option," said Amelia DeLazzer, Product Manager at Srixon. "This is one of our softest FastLayer Cores to date. It's a core that is soft in the center and firms up on the outside giving golfers equal parts distance and feel."
Added core resiliency also plays a key factor in the SOFT FEEL. The FastLayer Core snaps back into shape more quickly after impact, delivering more ball speed, and reducing unintended long game sidespin.
SOFT FEEL golf balls include Srixon's signature Speed Dimple Pattern, the 338 aerodynamic dimples improve the overall flight performance even in the toughest wind conditions. With a lower drag coefficient, the ball can cut through the air with less resistance, maintain a penetrating launch, and hold onto ball speed without sacrificing distance.
Two additional SOFT FEEL options are available in the SOFT FEEL LADY and SOFT FEEL BRITE. SOFT FEEL LADY is for women golfers who still want the softness of the SOFT FEEL but a slightly higher launch for more distance. SOFT FEEL BRITE features Matte Visual Performance Technology, designed for those who prefer enhanced visibility on the course, while maintaining the exceptional feel and distance of SOFT FEEL.
Key Technologies:
FastLayer Core: With a soft center that gradually transitions to a firm outer edge, the FastLayer Core gives SOFT FEEL incredible softness and distance off the tee.
Speed Dimple Pattern: For more distance and better performance in the wind, Speed Dimples reduce drag at launch and increase lift during descent.
Soft, Thin Cover: Provides more greenside spin and softer feel on all pitches, chips, and putts.
Retail and Pricing:
SOFT FEEL, SOFT FEEL LADY, and SOFT FEEL BRITE all retail at $22.99. SOFT FEEL is available in Soft White and Tour Yellow. SOFT FEEL LADY is available in Soft White or Passion Pink, and SOFT FEEL BRITE is available in Brite Red, Brite Orange, and Brite Green.
Launch Date: Feb. 16, 2023
For more information on the all-new SOFT FEEL ball family, visit: us.dunlopsports.com
Source: Srixon