SRG Announces Token Sale for the First Decentralized Gaming Loyalty Program
Press Release
•
updated: Sep 17, 2017
Decentralized loyalty solutions provider SRG announces dates for its upcoming token sale.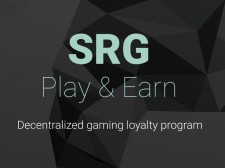 Moscow, Russia, September 17, 2017 (Newswire.com) - SRG is planning to redefine the online gaming industry with a Blockchain-based gaming loyalty platform. The company announced its token sale launching on October 4, 2017.
The volume of the global e-commerce market in the online games segment was US$95.2 billion in 2016 and is growing rapidly. Customer loyalty and engagement can make or break companies and SRG understands the need of creating new ways of attracting and retaining players. It will sound so sweet if percentages of the budget go to developers' or gamers' pockets instead of being spent in costly marketing activities.
SRG aims to help game developers save marketing costs and players get extra income by introducing the first decentralized intra-gaming platform with a loyalty program and a referral system using Ethereum smart contracts; and with players to get extra income, it is going to be a real deal in the online gaming industry.
The platform is absolutely different than other existing reward programs and it is going to be evolutional. For the first time ever, crypto-based rewards will be offered to gamers, increasing their engagement with the SRG platform.
The company is already working with Mail.Ru Group, an international technology company with a portfolio in online games and with other game developers like Saber, T-bull and Lucky Kat. The SRG Community unifies all rewards programs for an interlinked loyalty network across online games.
The CEO of SRG, Nikita Petrov explained the choice of Ethereum blockchain and the platform's future plans by saying,
"As the Ethereum blockchain improves, we will actively use the emerging capabilities of the network. This will allow us to make SRG the most reliable and large-scale decentralized referral system in the world of online games. Today we give you the opportunity to join the SRG Community during the ICO period and share our success."
SRG also contributes to the growth of the Ethereum community, since all payment operations will be done via Ethereum network and all referrals will create their own Ethereum Wallet. According to SRG forecasts, more than 11 million new wallets will be created by SRG Community members by 2019.
SRG Token Sale
SRG token sale is going to run on 4th of October 2017. The SRG token is a token issued exclusively during the ICO period, which entitles token holders to receive 50% of SRG's profits every six months. In total, 12,000,000 tokens will be launched and will be sold for US$2 each.
The funds raised will be used for releasing the complete platform, attract new game developers into the SRG Community and develop the worldwide market. For more details visit srg.io.
About SRG
The SRG team is led by professionals who have had extensive experience in the marketing industry. The CEO Nikita Petrov is an expert in developing loyalty programs and analytics for the mobile applications market. Sergey Cheshunas, BDO at SRG is also the director and founder of a large Moscow digital agency. Project Manager Alexander Fominykh has extensive experience in managing and conducting IT projects.
SRG's mission is to unite a target stream of players by connecting small gaming communities so that no one will be left alone. Developers can devote their energy to improve on the games instead of trying to attract more traffic. The new system allows good games to earn their own reputation. The SRG Community project is an application that will be integrated with both PC and mobile games. The development began in August 2017.
Learn more about SRG at – https://srg.io
Find SRG on Facebook at – https://www.facebook.com/CommunitySRG
Follow SRG on Twitter at – https://twitter.com/srgcommunity
Join the SRG Telegram channel at – https://t.me/srgcommunityen
Find SRG GitHub repository at – https://github.com/SRG-community/SRG
SRG on BitcoinTalk – https://bitcointalk.org/index.php?topic=2135549.0
Media Contact
Contact Name: Petrov Nikita
Contact Email: nikitavaisberg@gmail.com
Location: Moscow, Russia
SRG is the source of this content. Virtual currency is not legal tender, is not backed by the government, and accounts and value balances are not subject to consumer protections. This press release is for informational purposes only. The information does not constitute investment advice or an offer to invest.
Source: SRG
Tags
Additional Links