Squash Champion Walid Soliman Opens New Multi-Million Dollar Racquet Club and Gym
Press Release
-
updated: Jun 12, 2017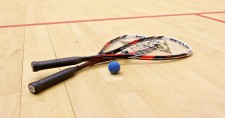 Norton, Virginia, June 12, 2017 (Newswire.com) - A brand new, multi-million dollar, state-of-the-art racquet club and gym has been opened in Norton, Virginia. The facility has been opened by squash champion Walid Soliman, who had to leave professional sports after suffering a serious shoulder injury. The day he was told he would never play squash again, he was not discouraged. He simply decided that he would find another way to be involved in sports, and his new Soliman's Doing It gym is the result of this decision.
Soliman says: "The day I suffered a shoulder injury, which prevented me from playing squash ever again, was a turning point in my life. However, I have always said that I would be involved in sports, so it became a case of refocusing my energy on another element of sports. I turned my injury, a huge negative, into a massive positive by becoming a spokesperson for different brands that offer shoulder support and sports safety equipment. This, put together with my earnings from professional sports, enabled me to raise sufficient funds to open Soliman's Doing It. I am so excited!"
The grand opening of Soliman's Doing It featured numerous athletic stars from a variety of sports. World famous tennis, squash, and badminton stars were in attendance, as were a number of bodybuilders and various fitness experts. Additionally, the gym's first 100 members were also invited to the red carpet VIP event.
Soliman's injury happened six years ago. He spent one year in rehabilitation, regaining movement in his injured shoulder. During that time, he decided that he wanted to open up the gym, and took another four years acting as a spokesperson for and endorsing various products in order to raise enough funds. It then took another year to actually construct the facility itself. And Soliman, a sportsman through and through, was never able to sit still. Hence, while all of that was going on, he also completed a degree in marketing.
He adds: "This was the first time I had to think about marketing and promotions myself. Before, I would be the one who was approached, and my coaches and managers just told me what to do in terms of promoting myself and getting new sponsors. Naturally, those activities enabled me to build up some good contacts, but I needed more. Hence, I completed a degree in marketing and advertising and started to build on awareness of Soliman's Doing It straight away."
It seems that Soliman's hard work has paid off. He announced the official opening date of his gym and said the first 100 members would be invited to the VIP opening event. Within just two weeks, he had attracted 1,000 members, and he knew his gym would be a success.
Soliman, unfortunately, will never be able to play sports again. This means that, while he can manage his new facility, he will not be able to participate in any of the sports himself. Instead, he has now taken on the role of sports commentator and analyst, thereby still having a direct involvement in sports himself. Additionally, he is working on awareness campaigns in order to get more young people into sports and be focused on being healthy.
One of the personal trainers at Soliman's Doing It says: "Soliman is such an inspiration. I can tell that he just wants to get on the court or on the machines and get stuck in there. However, he knows that he can't and he is taking any opportunity available to him to inspire others instead. The Murrieta community is a really better place because of him."
The VIP grand opening was a tremendous success. With Soliman's extensive marketing and advertising skills, he was able to gather a great deal of attention, and membership is booming, exceeding even his own expectations. The result is that he is already considering whether he could expand the building and add a swimming pool. He says: "A pool would really be a perfect addition, not in the least because it is such an important tool for rehabilitation. In the world of sports, competitive or not, injuries happen and swimming is a fantastic healing tool. Either way, I want my members to know that their membership fees do not go into my pocket, but into making their experience even better."
At present, membership to the luxury facility, which includes a gym and racquet club, costs $100 per month as part of couple deals. For single individuals, the cost is $125 per month. This is a surprisingly affordable deal, particularly considering the care and attention that people receive in return for it.
Source: Walid Soliman
Share:
---
Categories: Sports, Fitness, and Recreation, Recreation and Sports, Sports News
Tags: Walid Soliman, Walid Soliman Arrest, Walid Soliman Virginia
---