Sportneer Announces Launch of FitTransformer - Modular Home Gym of the Future With One Core and Endless Possibilities
Press Release
•
Jun 28, 2023
All-In-One Home Gym Equipment to Customize Your Fitness Journey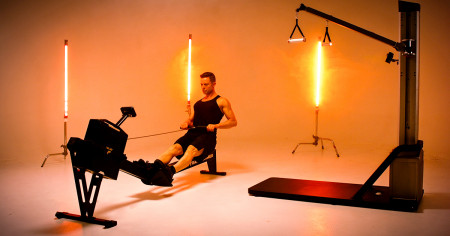 NEWARK, Calif., June 28, 2023 (Newswire.com) - Sportneer, a team of dedicated fitness experts that strives to elevate athletic and fitness experiences for athletes of all levels, just announced the launch of FitTransformer, a modular smart home gym designed to offer a comprehensive range of fitness exercises with one core and endless possibilities. This cutting-edge fitness system is compact and perfect for individuals seeking efficient and convenient workouts at home. With its state-of-the-art technology and intelligent training features, FitTransformer is set to redefine the way people approach their fitness routines. Learn more here.
Designed with a new-generation motor system, FitTransformer provides a realistic simulation of various training effects including aerobic, strength, HIIT, and explosive power. Its modular all-in-one design features a variety of fitness modules, such as strength training machines, skiing machines, and rowing machines. This allows users to customize their workouts by combining different modules based on their specific fitness needs, making home workouts incredibly versatile and enjoyable.
"Our modern lifestyles often leave us with limited time for exercise. Additionally, traditional gym routines using free weights or complex machines may require experience or the assistance of a personal trainer to ensure proper technique. With FitTransformer, our aim was to create an intelligent and user-friendly home gym that eliminates the need for time-consuming trips to the gym. FitTransformer offers a wide range of training options to suit different preferences. It empowers users to exercise on their terms, saving both time and money." - Eric He, founder of Sportneer.
FitTransformer, with over 200 training moves and a maximum resistance capacity of 264 LBS, provides significant strength training capabilities. Its modular design allows for easy switching between skiing, rowing, and strength modes, while also offering space-saving benefits. The 3-in-1 rowing module offers three resistance profiles in one space-saving machine: air, water, and magnetic. Built tough with industrial-grade steel and aluminum, FitTransformer can withstand intense workouts and provide you with a safe and reliable fitness journey for years to come.
This incredible new modular home gym is suitable for a variety of use cases, including bedrooms, apartments, and premium gym workshops. Its versatility and compact design make it the perfect fitness solution for individuals who want to stay fit and active within the comforts of their own homes. FitTransformer is coming soon on Kickstarter in estimated early July with special deals and incentives for early adopters. Learn more here.
Source: Sportneer Global