Splish Splash Water Park Receives Certified Autism Center Designation From IBCCES
Press Release
•
updated: Jun 20, 2019
First Water Park in New York to Receive Such Designation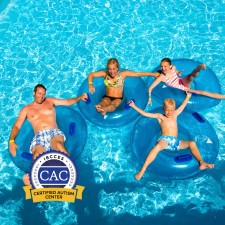 CALVERTON, N.Y., June 20, 2019 (Newswire.com) - ​​​Today, Splish Splash Water Park, in conjunction with the International Board of Credentialing and Continuing Education Standards (IBCCES), announced the completion of a staff-wide autism sensitivity and awareness training. The completion designates Splish Splash as a Certified Autism Center (CAC) as distinguished by IBCCES, making it the first water park in New York to receive such a distinction.
Working closely with IBCCES, the staff at Splish Splash will be continually trained to assist guests with autism spectrum disorder (ASD) and their families to help ensure a positive experience during their visit. Splish Splash will also undergo an onsite review by IBCCES and will incorporate sensory guides for each ride so guests with sensory needs can better plan their day and make informed choices best suited to their individual needs. Guests can also visit Splish Splash Guest Services for any additional accommodations they might need.
Parents with children on the autism spectrum often find choosing destinations and attractions a challenge due to sensory needs, dietary restrictions and safety concerns. In many cases, changes or accommodations made by these destinations might seem minor, but they can make a big difference to the guest experience.
"Individuals with an autism spectrum disorder (ASD) need autism certified recreational activities. Many times, we concentrate on housing and education, neglecting the need for 'fun.' Having other opportunities will increase individuals' quality of life immensely. I will always encourage people providing experiences from organizations that are committed and understand people with an ASD," said Dr. Temple Grandin, prominent author and speaker on autism.
For almost 20 years, IBCCES has been the industry leader in autism training for healthcare, education and corporate professionals around the globe. IBCCES recognized that many families with children with special needs have limited trained travel and entertainment options and created programs specifically for those industries.
"Every year, we look at ways to improve the guest experience at Splish Splash; becoming a certified autism center was our number one priority. Since we opened in 1991, our mission has been to provide the finest in family fun and entertainment for everyone. This is another giant step to better serve all of our guests," said Mike Bengtson, general manager at Splish Splash Water Park.
"With the rise in diagnosis rates of cognitive disorders, there is a huge need for these options. We know that training and certification is the best way for organizations to ensure they can accommodate all families," explained Myron Pincomb, IBCCES board chairman. "IBCCES is proud to work with Splish Splash to increase the availability of certified options and help individuals have a safe and enriching experience when traveling or visiting a new place."
IBCCES also created AutismTravel.com, a free online resource for parents that lists certified destinations and connects families to other resources and each other. Each destination listed on the site has met Certified Autism Center (CAC) requirements.
Splish Splash Water Park
Splish Splash has been a family destination for 26 years. Splish Splash has 96 exciting acres of total fun for the whole family. Everywhere they turn, they discover another one-of-a-kind water attraction. Year after year, families come here for a summer like no other.
Splish Splash continues to carry family needs as its number one priority. From attractions, shows and various dining options, Splish Splash aims to make every guest's water park experience one to remember. Visit www.splishsplash.com for more information.
About the International Board of Credentialing and Continuing Education Standards (IBCCES)
Delivering The Global Standard For Training and Certification in The Field of Cognitive Disorders - IBCCES provides a series of certifications that empower professionals to be leaders in their field and improve the outcomes for the individuals they serve. These programs are recognized around the world as the leading benchmark for training and certification in the areas of autism and other cognitive disorders. As the only training and certification program endorsed by The Autism Society of America, one of the largest grassroots autism organizations in the world, IBCCES is committed to increasing the quality of life and services provided to individuals on the spectrum.
MEDIA CONTACTS:
Gamini Perera- Director of Sales and Marketing
Splish Splash Water Park​
Email: gamini.perera@palaceentertainment.com
P 631.727.3600 x 228
F 631.727.0594
Meredith Tekin, President
IBCCES
Meredith@ibcces.org
904.508.0135
Source: IBCCES
Related Media