SpendMend Announces Virtual Conference Schedule for H1 2021
Press Release
•
updated: Feb 11, 2021
SpendMend partners with Health Connect Partners and 340B Coalition to deliver valuable content to healthcare systems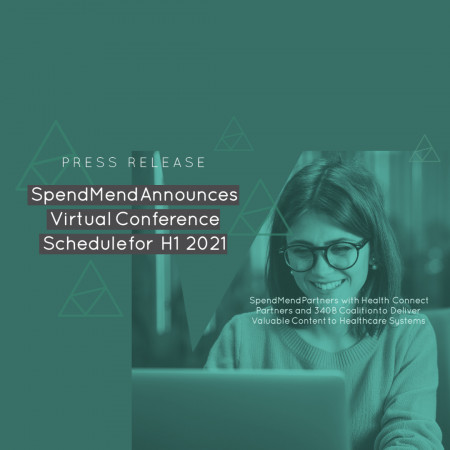 GRAND RAPIDS, Mich., February 11, 2021 (Newswire.com) - SpendMend, the leading provider of tech-enabled solutions to optimize the cost-cycle for the healthcare industry, today announced their participation at four virtual trade shows through the balance of H1 2021.
SpendMend is partnering with Health Connect Partners (HCP) to develop and distribute educational content to hospitals across the nation through three Live On-Line (virtual) events in Spring 2021.
HCP 2021 Spring Hospital O.R. & Surgical Conference / Feb 16 - March 5
HCP 2021 Spring Hospital Supply Chain Conference / March 16 - April 2
HCP 2021 Spring Hospital Pharmacy Conference / April 12 - May 6
"SpendMend stands out among industry providers in their efforts to help healthcare systems navigate through the pandemic," says David Mason, CEO of Health Connect Partners. "We have enjoyed partnering with them and we support their mission to help hospitals improve patient care with their delivery of cost-savings solutions."
"Health Connect Partners' Live On-Line conferences have provided a superb platform for having a meaningful and informative conversation with healthcare systems over the past year," offers Amanda Geelhoed Papach, head of virtual and live events at SpendMend. "We look forward to working with HCP in 2021 and beyond to serve their membership."
SpendMend will kick off their virtual conference season next week in partnership with 340B Coalition at their online winter conference where Greg Wilson Pharm.D., BCPS will be presenting an educational workshop on 340B and Formulary Management Strategies.
340B Coalition 2021 Winter Conference / February 16 - 24
"We are proud of our longstanding partnership with 340B Coalition," states Felicity Homsted, Director of Research and Education at Turnkey Pharmacy Solutions (a SpendMend Company). "They have been a critical partner in our ongoing efforts to help covered entities maintain compliance in their 340B programs while also driving an average of 3% of costs out of their annual pharmacy spend."
About SpendMend
SpendMend is the leading provider of tech-enabled, cost-savings solutions in the healthcare industry. Combining the use of data, proprietary technology, and rigorous analytics with its healthcare focus and expertise, SpendMend partners with healthcare systems to improve and optimize their expenses in meaningful and collaborative ways. SpendMend's mission is to help its clients improve their patient care through innovative cost-savings solutions.
About Health Connect Partners, Inc.,
Health Connect Partners, Inc., (HCP) is a healthcare education firm focused on bringing the very best in education to healthcare providers and their suppliers. The company's mission is to bring healthcare providers and suppliers together, with a focus on leading education. HCP brings together providers and suppliers through industry-specific conferences, including Hospital Pharmacy, Hospital O.R. & Surgery, Hospital Radiology & Imaging, Hospital Healthcare IT and Hospital Supply Chain. HCP conferences are designed to provide the optimum environment for networking and relationship building between providers and suppliers. For more information, visit HLTHCP.com.
Source: SpendMend
Additional Links