Special Delivery for New Vernon NJ Child
Press Release
-
Sep 7, 2016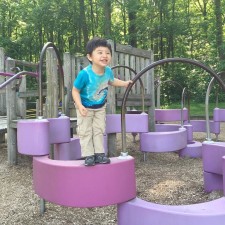 New Vernon, NJ, September 7, 2016 (Newswire.com) - The Ng family of New Vernon, New Jersey, is hoping that very soon they will be welcoming into their home and heart a Golden Retriever.  The dog will be provided by Service Dogs by Warren Retrievers, a non-profit organization based in Virginia, with a mission to provide specially-bred and trained dogs for adults and children with invisible disabilities like Autism Spectrum Disorder, PTSD, Seizure Disorders, or in the case of Ethan Ng—Autism Spectrum Disorder.  Ethan's dog has already begun its training as Autism service dog and it will continue to learn under the careful guidance of a certified trainer from Service Dogs by Warren Retrievers, "SDWR," and through the rapport it develops with the Ng family and especially Ethan.
At the age of 16 months, Ethan was diagnosed with Autism Spectrum Disorder.  In the past two years since the diagnosis, Ethan has had to face the daily challenges associated with Autism.  Ethan's parents, Margaret and Ed, along with his sister, Emma, age 10, also live with the challenges of caring for Ethan.
Autism Spectrum Disorder can hinder a person's ability to communicate and interact socially.  New scientific research studies into Autism therapy provide positive evidence of the difference a service dog can make.    Dan Warren, Founder and President of Service Dogs by Warren Retrievers, states, "The studies showed children were more talkative and socially engaged when their service dog was present.  Children were less aggressive and smiled more frequently when around their service dog."  One of the main goals when training an Autism service dog is the need to keep a child safe; when the family goes out, the child will be literally tethered to the dog to keep him or her from running off or getting hurt.    According to Mr. Warren, "the studies further found that safety aspect was a huge relief for families as parents' anxiety over their child can lead to social isolation."  
Margaret Ng confirms that shopping and dining out as are just two of the many social activities that are next to impossible for the family.  "It is very difficult to shop with Ethan.  He doesn't want to stay in the cart, he wants to run and he is heedless of dangers, he does not return when called," states Margaret. As for dining out, Margaret adds that they do so very rarely, "It is challenging to get Ethan to stay put in a highchair or stay at the table, and because Ethan is non-verbal, he tantrums when he cannot make himself understood or does not get what he wants."
A service dog will be of tremendous help in easing the problems Ethan and the Ng family face.  Ethan's chances at verbal communication improve by 70 percent; by tethering, walks or trips to the store will become safer for Ethan, and should Ethan become lost, his service dog will be trained to find him. 
 Ethan's dog will also work with the SDWR trainers towards public access training and certification.  Dan Warren is quick to point out that, "all the incredible services these dogs can provide are through progression, hard work and dedication of the organization and the family who must work together to build on training foundations and fundamentals.  This is about an 18-month training program."
 What sets SDWR apart from other non-profit service dog organizations are the customized training methods and SDWR matches dogs to their "person."  According to Dan Warren, "every child with an Autism Spectrum diagnosis is different and faces distinctive challenges and needs.  With the input of Ethan's parents, we have identified the tasks Ethan's service dog must address, from elopement issues to sleep pattern disruption and frustrations with verbal skills."
These amazing service dogs are not inexpensive and Service Dogs by Warren Retrievers survives like other non-profit service organizations on donations.  Currently, the Ng family is actively fundraising to meet the costs associated with having Ethan's dog by his side 24 hours a day, 7 days a week.  The family will have a booth at the Parsippany Fall Festival on September 18 and the Morristown Festival on the Green on September 25.  They have also established an on-line donation site http://sdwr.donordrive.com/campaign/ethan  to receive contributions to help secure Ethan's dog.  All donations are 100% tax deductible. 
"We know from speaking with other families who have an Autism Service Dog from SDWR that this dog can change Ethan's life and our lives in so many positive ways," says Margaret Ng, "as parents, we have to try every tool available to help Ethan and we hope our community comes out to help us in that mission."
Press Contact
Dan Warren
​Founder and President
dan@sdwr.org
540-543-2307
Source: Service Dogs by Warren Retrievers
Share:
---
Categories: Healthcare, Community News, Fund Raising
Tags: Autism, Autism Service Dog, Non-Profit
---