Sparkling Designer Ramadan Decorations & Eid Decorations Launch
Press Release
-
updated: Apr 27, 2018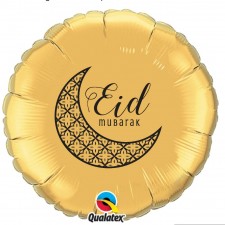 LONDON, April 27, 2018 (Newswire.com) - The Muslim Sticker Company launches two new designer collections, the Ramadan Shimmer Collection and the Eid Sparkle Collection.
Farhat Amin, the founder of The Muslim Sticker Company is releasing the two luxury décor collections in April 2018 They have been lovingly designed so families can celebrate Ramadan and Eid in style.
The Muslim Sticker Company is known for creating stunning decorations for Muslim festivals. Thus, for the first time, they have created an entire product line of glittering Ramadan and Eid decorations "The Ramadan Shimmer Collection and Eid Sparkle Collection were created for Muslim families who want to stylishly decorate their homes during Ramadan and Eid," says Farhat Amin.
The collections will be sold on the website muslimstickers.com. One of the exclusive items available are the sophisticated, golden Eid Mubarak bunting
Each individual product has its own name. A few examples are:
£4.50 Ramadan Mubarak bunting
£12.00 Gold Moroccan Eid lights
£4.00 Gold Eid Mubarak foil balloon
£4.50 Gold Eid Mubarak Bunting
Contact:
For more information about Farhat Amin or for an interview with Farhat Amin, please write to info@muslimstickers.com. Media high-res photos available upon request.
The Muslim Sticker Company
10 years ago, Farhat Amin was the first Muslim businesswoman who began making Ramadan decorations and Eid decorations. She realized the market was not catering to Muslim families. As a parent, she was unable to find premium quality decorations for her own family, so she decided to produce them herself. The Muslim Sticker Company now has a portfolio of more than 50 Ramadan decorations and Eid decorations from bunting to Eid lights, it also sells its products wholesale in over 15 countries.
Source: The Muslim Sticker Company
---
Categories: Small Business
Tags: eid decorations, eid gifts, eid greetings, eid mubarak cards, eid mubarak decorations, eid party, ramadan calendar, ramadan cards, ramadan decorations, ramadan gifts, ramadan lanterns, ramadan lights
---