SPARK is Calling on Dads With a New 'Men of Action' Campaign
Dads will do anything for their children with autism, but SPARK just needs a quick DNA sample.
Press Release
-
updated: Jul 10, 2017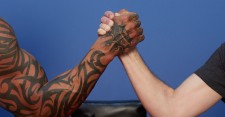 NEW YORK, New York, July 10, 2017 (Newswire.com) - In honor of all that fathers do to help raise and nurture their children with autism — SPARK launched its "Men of Action" campaign to highlight the lengths these dads would go to protect and care for their children. The campaign addresses the need for dads — as well as mothers and children — to join SPARK, and to donate their saliva to find answers for autism.
While the SPARK study has already enrolled more than 50,000 individuals, including 20,000 individuals with autism, the study is falling short in terms of one crucial member of the family: dads.
 "In order to fully understand the genetics of autism, DNA from both parents of an affected individual is far more helpful than the DNA of just one parent alone," says Dr. Pamela Feliciano, Scientific Director, SPARK.
The "Men of Action" campaign consists of two short films that feature eight couples, all of whom have children with autism. These families are interviewed about their children, and the great love they have for them is clear. Then the dads are confronted by surprising and humorous physical challenges that make clear just how easy it is to donate DNA to SPARK, compared with the very real challenges they often face as parents. 
One of the videos features Mike Ayello, the top-ranked arm wrestler in New York State.
Created by Agency Bootstrap, the "Men of Action" campaign will run through the month of July.
"​Samples from both parents in SPARK are critical to identifying new genetics changes in the DNA of individuals with autism. By comparing the DNA in the parents with the child with autism, we can readily see what is different in the child with autism and pinpoint many of the genes associated with autism." - Dr. Wendy Chung, Principal Investigator for SPARK
SPARK (Simons Foundation Powering Autism Research for Knowledge) is a national autism research initiative that will catalyze autism research by connecting individuals with a professional diagnosis of autism and their biological family members to research opportunities to advance our understanding of autism. SPARK's goal in doing this is not only to better understand autism but to accelerate the development of new treatments and supports.
SPARK's website and the program were designed to be easily accessible for the entire autism community in partnership with adults with autism, parents, researchers, clinicians, service providers and advocates.
Registering for this first-of-a-kind initiative can be done entirely online in the convenience of one's home and at no cost. DNA is collected via saliva kits that are shipped directly to participants. SPARK will provide access to online resources and the latest research in autism, which may provide participants and families with valuable information to help address daily challenges.
SPARK has partnered with 25 clinical sites across the country as well as autism organizations, service providers, and key influencers to help spread the word about SPARK and to recruit participants. Through these strategic partnerships, SFARI hopes to reach and engage a diverse and large number of individuals and families affected by autism.
SPARK is funded in its entirety by SFARI, a scientific initiative within the Simons Foundation's suite of programs.
Please visit: SPARKforAutism.org/TakeAction​​
Beverly Robertson, Engagement and Outreach Manager, SPARK,
​brobertson@simonsfoundation.org
​Stacey Greenebaum, communications director, Simons Foundation,
​agreenebaum@simonsfoundation.org​​​
Source: SPARK
Share:
---
Categories: Healthcare, Sciences, Parenting
Tags: ASD, autism, autism awareness, autism research, autism spectrum disorder
---