Spanish Scientologists Celebrate Sant Jordi Festival With Books and Roses
Press Release
•
Apr 28, 2016
On the holiday set aside for knowledge and love, Scientologists help neighbors discover Dianetics at book stands in Madrid and Barcelona.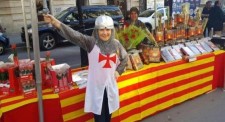 Barcelona, Spain, April 28, 2016 (Newswire.com) - With hundreds of stands filling the streets of Madrid and Barcelona for Sant Jordi Festival (St. George Day) the National Church of Scientology in Madrid and the Church of Scientology Mission of Barcelona celebrated with Dianetics: The Modern Scientology of Mental Health, the perennial bestseller written by Scientology Founder L. Ron Hubbard and published 66 years ago on May 9.
According to tradition, on Dia San Jordi, otherwise known as Book Day, couples exchange gifts: a book for the men and a rose for the women.
Also called El Día de los Amantes, Lovers Day, and sometimes El Día de la Rosa, Day of the Rose, it is a time to promote culture and reading, with books the oldest and most traditional method of transmitting knowledge.
With their stands filled with Dianetics books and roses, Church volunteers gave people a glimpse of the book's power to answer questions and resolve problems. Stand visitors were offered a live demonstration of Dianetics techniques.
Dianetics, which has been translated into 50 languages, provides a simple method anyone can learn and use. As with Scientology Churches and Missions the world over, the Church of Scientology Madrid and Church of Scientology Mission of Barcelona offer Dianetics Seminars where anyone may learn these life-changing techniques and experience the benefit personally.
Source: ScientologyNews.org
Related Media