Southeastern Italy Unites to Counter Teen Drug Abuse and Crime
On the southern Adriatic coast of Italy, local officials and private citizens join forces to guarantee the future of the next generation.
Press Release
-
updated: Feb 7, 2019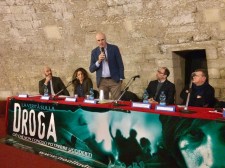 BARLETTA, Italy, February 7, 2019 (Newswire.com) - City officials, law enforcement and concerned citizens from Puglia, the region that forms the heel of Italy's boot, gathered for a roundtable at the 12th-century Castle Barletta to take action against teen drug abuse and organized crime — major influences on youth of the region. Those attending are committed to taking effective action to safeguard the region's children and teens.
Among the officials attending were the mayors of Bitonto and Barletta, police chief of Bari, vice president of a national network of local anti-Mafia organizations, a drug prevention specialist, several attorneys including a criminal lawyer, and the director the Say No to Drugs Association of Puglia — the regional chapter of Foundation for a Drug-Free World.   
Witnessing harrowing drug-related incidents at the local hospital made the mayor of Barletta a believer in drug prevention. His city hosted the roundtable and he thanked the Say No to Drug Association "for working as volunteers to improve the quality of life for our young people." 
The mayor of Bitonto became the driving force of drug prevention in his city a year ago when he held a press conference to gain support for ending the Mafia's hold on the community. This was prompted by the death of an 84-year-old woman in December 2017 — a casualty of a shootout between competing drug mobs. He launched a campaign he called No Droga, No Mafia (No Drugs, No Mafia) based on the premise that every time someone purchases an illegal substance, no matter what it is or from whom, they are supporting organized crime. 
His drug prevention campaign included concerts and other community activities. "Certain young boys seek to not only earn their livelihood by becoming drug dealers but also to find a sense of security in the underworld," he said. "They turn to drugs just because they feel alone and want to be part of a group." By using the foundation's drug education materials, they not only told youth to "say no," they were able to provide them the information to understand why. 
The Bari chief of police said they have taken children as young as 13 into custody for using hashish and cocaine. "The culture of prevention will always have greater long-term results than mere repression," she said.
Foundation for a Drug-Free World is a nonprofit public benefit corporation that offers the simple but powerful Truth About Drugs booklets that describe how drugs work and their mental and physical effects. The 14 booklets in the series focus on the most commonly abused drugs, exposing and debunking pro-drug myths with the truth about the short- and long-term effects of drugs.
Available in 22 languages, these illustrated publications are easy to understand, with each booklet featuring factual information and real stories from former users that strike a chord with people of all ages. The booklets encompass synthetic drugs, alcohol, ecstasy, cocaine, crack cocaine, crystal meth, inhalants, heroin, LSD, painkillers, ADHD drugs and other prescription drug abuse.
The Church of Scientology and its members support the Foundation for a Drug-Free World, a secular nonprofit corporation that empowers youth and adults with factual information about drugs so they can make informed decisions to live drug-free. As shown on a program on the Scientology TV Network, support of the Church makes it possible for the Foundation to provide drug education booklets, videos and educator guides free of charge to teachers, mentors and civic and community leaders.
According to the United Nations Office on Drug Abuse and Illicit Trafficking, "Every dollar spent on prevention can save governments up to ten dollars in later costs."
Source: ScientologyNews.org
Share:
---
Categories: Substance Abuse
Tags: Foundation for a Drug-Free World, No Drugs—No Mafia, Say No to Drugs Association
---