South Los Angeles Non-Profit Serves 2.3 Million Meals Amid the 2020 Pandemic
Press Release
•
updated: Mar 15, 2021
ThruGuidance is Looking to Partner with More Locations to Feed Families in Need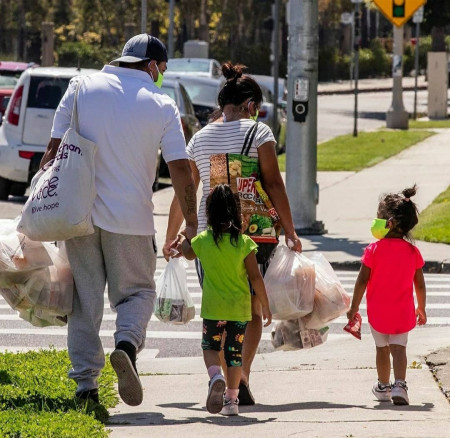 LOS ANGELES, March 15, 2021 (Newswire.com) - ​Local non-profit organization, ThruGuidance is quietly filling the food gaps amid the devastating widespread COVID-19 pandemic. Many children have been left without the critical lifeline to healthy meals, while schools are shut down. Currently, a total of 2,352,405 "Grab & Go" meals have been served to families in need in Los Angeles County.
"Breaking generational cycles and destroying barriers of poverty has always been ThruGuidances' goal. And through these challenging times, we've been grateful enough to also provide solace to the parents of our youth," said Courtney Lockridge, Director of Nutrition Services for Nutritious Life, a ThruGuidance program. "Ending hunger, preventing obesity, and giving our youth a Nutritious life is how ThruGuidance will continue to fill the needs in homes within our community. We are here to bridge that gap and as long as school is out, we'll be in."
Because of school and community program closures, most families have been unable to provide traditional meals to their children. Nearly 22 million low-income kids from communities across the country rely on the free and reduced-priced meals they receive at school. For many, these meals may be the only nutritious food that they'll receive on a given day.
To ensure students and young people have access to healthy breakfast and lunch, Nutritious Life is accepting applications for schools, centers, parks, churches, and organizations to become meal distribution sites. As of March 2021, the non-profit has partnered with 24 locations across Southern California, but more are needed. Parents and children can receive five to seven days' worth of meals at the sites that are sponsored by the non-profit.
While challenging times still lay ahead, ThruGuidance and its partners are here to support families in their community during school closures. As a distribution site, partners provide a safe haven where parents can pick up meals for all the children in their household for free.
About ThruGuidance
ThruGuidance is a volunteer-based international non-profit 501(c)(3) organization committed to destroying barriers of poverty and cycles of violence in underserved communities founded by Kendal R. Troutman.
# # #
Please Note: For additional information please contact ThruGuidance Hub & Studio, 4081 West El Segundo Boulevard, Hawthorne, California 90250, United States. Phone: 323-657-7677 email: info@nutritiouslife.org Mailing Address: 4859 W. Slauson Ave. #237 Los Angeles, CA 90056
Media Contact Information
Victoria Harding
ThruGuidance
213-376-8967
victoria@thruguidance.org
Source: ThruGuidance Non-Profit Organization
Tags