South Carolina Primate Center Keeps Monkeys Safe During Hurricane Florence
Press Release
-
updated: Sep 20, 2018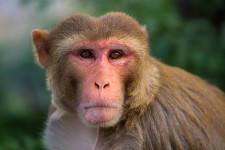 YEMASSEE, S.C., September 20, 2018 (Newswire.com) - Staff at the Alpha Genesis Primate Research Center in Yemassee, South Carolina prepared delicious "monkey treats" for their primate friends prior to the expected arrival of Hurricane Florence. The monkeys calmly went about their monkey business well-cared for in safe specially-designed indoor habitats in preparation for the storm, which made landfall along the Eastern Seaboard last week.
In total, the facility will bring hundreds of monkeys to the indoor storm shelters before Friday. The process is well planned and well coordinated — with staff members working round-the-clock for over a week to evaluate each enclosure in order to maximize comfort and well-being for the animals during the powerful storm.
Hurricanes present special challenges, and I am extremely pleased with how our people performed in keeping the monkeys safe.
More than half-a-million people have evacuated their homes in South Carolina, but at Alpha Genesis, animals need little extra help staying safe, and they receive this help due to the heart-warming efforts of their monkey-loving caretakers.
Storm preparations begin each April at the primate center. That's when the center begins a series of yearly site inspections to identify potential risks (such as loose items that could be blown through the air) and repairs that need to be made before hurricane season arrives. Company officials then meet with department heads to review emergency plans. "The key to a successful outcome is advanced preparation, and to make the health and safety of the monkeys and their human caretakers the highest possible priority. No expense is spared. Communication is extremely important, and we take our responsibilities in these areas very seriously", said Dr. Greg Westergaard, Company President and CEO.
"We meet to review and improve our procedures several times each year, and ensure well in advance of the hurricane season that we order supplies and evaluate our practices," he explained. "We make sure our equipment is in good condition, that we have fuel storage on site, and that all emergency supplies are maintained in abundance. Generators were tested prior to the storm, and we deployed an advanced satellite communications system which runs independent of the main grid and allows us to reach anywhere on the planet.  We significantly increased our primate enrichment, treats, and special food orders, including food for the courageous staff who remain on site to care for the animals.
"The Alpha Genesis staff are highly dedicated compassionate people who volunteer to work through extremely hazardous conditions to help the animals," explained Westergaard. Staff essential to caring for the monkeys remain at the facility 24 hours per day prior to and throughout the storm to watch over the animals. 
"I am extremely proud of our people and am most impressed with how they respond to these types of situations. Hurricanes present special challenges for us that require a highly choreographed and caring response". Contacted after the storm, Westergaard added: "I am extremely pleased to state that our preparations were a great success, that the staff performed in exemplary fashion, and that all the monkeys were kept safe and sound throughout the entire process."
Source: Alpha Genesis
Share:
---
Categories: Research and Development
Tags: biomedical, florence, hurricane, monkey
---