SoundWhere to Become More Than a Prototype
​Audio Brand to Launch at International Contemporary Furniture Fair in Miami
Press Release
-
Aug 6, 2016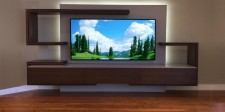 Fort Lauderdale, FL, August 6, 2016 (Newswire.com) - Local high-end luxury furniture maker, Manufacturing by Skema, Inc. is scheduled to officially launch their new audiophile speaker technology and SoundWhere Media Furniture brand at the 1st annual International Contemporary Furniture Fair (ICFF) at Miami Beach Convention Center on October 5-6th. The show is attended by luxury furniture enthusiasts around the world as well as architects, designers, and retailers.
SoundWhere Media Furniture merges functionality and aesthetics through a commitment to creating furniture that houses high-end Hi-Fi entertainment technology. The new company partners with Manufacturing by Skema to develop custom audiophile furniture with impeccable attention to detail that fits each client's needs. Every concept starts as a drawing and is then cut and molded using precise materials to create media furniture that is both attractive and functional.  
"It all started when our customers requested that we hide high-end stand-alone speakers within media center furniture because speaker grills and cloth fail to be aesthetically pleasing," says Norberto Grundland, Founder of SoundWhere Media Furniture. "Our clients discovered that sound integrity was compromised and delivered a 'box within a box' effect when these high-end speakers were simply placed in a media cabinet or behind a plant. SoundWhere changes all that."
Additionally, SoundWhere is expected to appear in the September issue of LUXE Magazine.
About SoundWhere Media Furniture: SoundWhere Media Furniture in Fort Lauderdale, Florida designs and manufactures custom audiophile quality TV and media room furniture with hidden AV technology and Hi-Fi speakers.
About Manufacturing by Skema, Inc.: Manufacturing by Skema was founded in 1988 by Norberto Grundland in Davie, FL. The company design and manufactures handcrafted furniture with a speciality in custom cabinetry for residential and commercial applications.
Source: Manufacturing by Skema, Inc.
Share:
---
Categories: Home Theater and Audio/Visual Equipment, Interiors and Decoration, Furnishings
Tags: audio, audio furniture, audio visual, av, Fort Lauderdale, furniture, home theater, interior design
---