Soundable Health Recognized as Quarterfinalist for the Digital Health Hub Foundation: Digital Health Awards
Press Release
•
Sep 22, 2023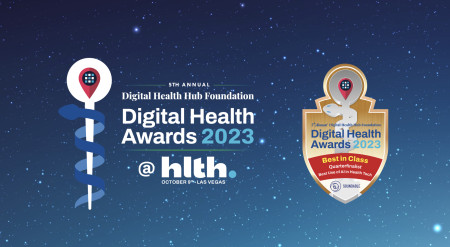 SAN FRANCISCO, September 22, 2023 (Newswire.com) - Soundable Health is thrilled to announce its selection as a quarterfinalist for the prestigious Digital Health Awards, presented by the Digital Health Hub Foundation. Soundable Health was chosen as a quarterfinalist for the Digital Health Best in Class - Best Use of AI in Health Tech.
This recognition highlights the company's dedication to developing innovative health monitoring solutions with new digital audible biomarkers using AI sound analytics. The Digital Health Awards celebrate organizations that demonstrate excellence in leveraging digital advancements to enhance healthcare services and patient outcomes. The quarterfinalists were selected based on criteria such as the scope of problems addressed, impact, differentiation, clinical validation, economic ROI, customer adoption and market traction. As a quarterfinalist, Soundable Health stands out for its commitment to innovating digital health, by empowering both patients and health care providers.
"Transforming healthcare is extremely challenging, but truly rewarding. We have unlocked the potential of AI and empowered patients to conveniently track their symptoms from the comfort of their homes using smartphones. This remote monitoring enables data-backed, shared decision-making between patients and doctors, leading to better health and economic outcomes. Moreover, we are now noticing that our solutions are also contributing to better access to specialty care and promoting health equity. It is indeed gratifying to hear that our achievement is being recognized by esteemed leaders and experts in the field," said Catherine Song, PhD, founder & CEO of Soundable Health.
Out of a substantial pool of over 1,500 submissions, only the most promising 16 quarterfinalists per category, per track have advanced to this stage.
"This year has been our most competitive yet as we've received a great surge in submissions, numbering in the thousands, pouring in from companies around the world. We are so impressed by the pioneering work in digital health happening on a global scale. Congratulations to all of our quarterfinalists on their notable success." - Mark Goldstein, Chairman of Digital Health Hub Foundation.
The winners will be announced at the Grand Finale taking place at HLTH on the Moon Stage on October 9, 2023.
Soundable Health
Soundable Health is a health tech startup that provides innovative health monitoring solutions using everyday sounds. With its unsurpassed AI sound analytics, Soundable Health is leading the discovery and development of new digital audible biomarkers that can be detected using smartphones. The new audible biomarkers pioneered by Soundable Health range across various medical fields, especially with underserved chronic symptoms including benign prostatic hyperplasia (BPH) and overactive bladder (OAB) in urology (proudP®) and respiratory signs and symptoms including coughs (Coughy®). For more information, visit www.proudp.com
Source: Soundable Health, Inc.