Soul Purpose Designs Launches Kickstarter Campaign
Brooklyn-native reveals philanthropic collectible sneakers & apparel
Press Release
-
updated: Mar 17, 2017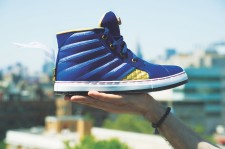 New York, New York, March 17, 2017 (Newswire.com) - Sneaker aficionado and NYC-based humanitarian, Louis Blaut, has revealed his first passion project, Soul Purpose Designs. In support of the launch, the limited-edition, collectible sneakers and apparel started an official Kickstarter campaign on Thursday, March 9.
Soul Purpose Designs is a Brooklyn-based design studio creating unique pieces of wearable art. Led by Creative Director, Louis Blaut, Soul Purpose Designs dedicated 365 days to 365 designs inspired by Hip-Hop music, pop culture icons and 80s-90s childhood nostalgia. Their debut collection features innovative sneakers and high-quality apparel including basketball, casual, running, and lifestyle sneakers, as well as sweatshirts, t-shirts, and hats.
"We started with a goal of creating unique pieces of art that would initiate conversations between people and also spread a positive message," says Blaut, founder of Soul Purpose Designs. "We designed our t-shirts using common Hip-Hop vernacular and our shoes based on pop culture icons and nostalgia in hopes of connecting people through shared passions and creating bonds that might not otherwise have happened."
Soul Purpose Designs features men's sneakers (sizes 7-14) and women's sneakers (sizes 5-11), as well as unisex apparel in (XS-XXL). Each item is limited edition using a unique tracking code for sneaker collectors. 
The debut collection features four signature sneakers: 
The Prince: inspired by Sikh culture and Disney's Aladdin
The Ax: inspired by the Gibson 6-string acoustic guitar
The Etheria: inspired by She-Ra, Princess of Power
The Mischief: inspired by Disney villain, Maleficent
"Soul Purpose was built on a love for the arts and a desire to give back to the local community," continues Blaut. "Beginning Day One, we are donating 15% of profits with 5% going to Materials for the Arts, the Jamaica Center for Arts and Learning, and the Urban Arts Partnership, respectively."
Exclusive to Kickstarter backers, the first 100 pairs of sneakers will include a limited-edition signed prints of original sketches. Product tags will also include embroidered mention of the collectible Kickstarter edition. Similarly, the first 100 shirts and 100 hats will include embroidered mention and will be offered in limited-edition colors and styles. 
Sneakers will be available at an exclusive Kickstarter price of $400 USD (regular price: $499.99 USD). Kickstarter investment tiers range from $5.00 to $15,000.00 USD.
Kickstarter will close on Saturday, April 8, 2017.
Interviews and high-res images available upon request. More information: https://www.kickstarter.com/projects/1712966954/soul-purpose-designs-production-funding 
Facebook: https://www.facebook.com/soulpurposedesign 
Instagram: @soulpurposedesigns 
Twitter: @soulpurposedsgn
###
About Soul Purpose Designs
Soul Purpose Designs is a Brooklyn-based design studio creating innovative sneakers and high-quality apparel inspired by hip hop music, pop icons and comic book culture. Soul Purpose Designs creates unique pieces of wearable art meant to provoke emotion and encourage conversation with your fellow human being; connecting people through nostalgic memories and childhood favorites. 
Ultimately, we're just trying to, "Spread Love, it's the Brooklyn Way" - Notorious B.I.G.
Media Contact
Laura Nicolassy | AMPR | laura@ashtonmarcuspr.com | 917-417-9783
Source: Soul Purpose Designs
Share:
---
Categories: Non-Profit Schools and Institutions, Fashion and Apparel, Fund Raising
Tags: arts, charity, fashion, footwear, hip hop, philanthropy, pop culture, shoes, sneaker, sneaker collecting, sneakers, streetwear
---