Sorry, 50 Is NOT the New 30, a New Book That Touts the Highs, Lows, and General Reflections of the Middle Aged
New Book Touts the Highs, Lows, and General Reflections of the Middle Aged
Press Release
-
updated: Mar 12, 2019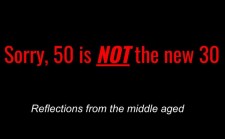 WOODLAND HILLS, Calif., March 12, 2019 (Newswire.com) - Gained a few pounds lately? Wonder why you're feeling new and weird aches and pains that have suddenly come out of … nowhere? Sick and tired of being crunched up like a sardine in your airline seat? Author Anthony Newcombe takes a humorous, light-hearted, yet insightful look at these issues and more in his writing debut, Sorry, 50 is NOT the New 30. Statistics show that by the year 2035, there will be nearly 80 million Americans age 65 and over, including the author himself … now that's a lot of aches and pains!
Newcombe felt it particularly important to write this book at the present time because of this rapidly growing population. "Over the last few years, I've realized that there were many instances in my life where it would've been nice to have been given some sort of handbook – or some guidance – when dealing with many of life's challenges," Newcombe stated. "Also, this book serves as a harsh wake-up call to the realities facing many aging adults today. I feel as though this book will remain relevant not only for the duration of my lifetime, but also in the lifetimes of future middle-agers to come."
Highlighting the "reflections of the middle-aged," Sorry, 50 is NOT the New 30 takes aim at the trials and tribulations that all middle-agers must endure, including weight gains, body aches, stiffness and pain, technology, children, marriage, career issues, and everything else imaginable that can plague – and most likely have plagued – those 40-50 years of age and above.
Sorry, 50 is NOT the New 30 is available in both audio and e-book format at the book website. The e-book version is also available wherever the Rakuten Kobo app is available.
# # #
About the Author
Prior to penning Sorry, 50 is NOT the New 30, Anthony Newcombe enjoyed success as an entrepreneur, having launched several start-ups in the areas of private aviation, import/export, professional business solutions consulting and web development & design. In his first foray as an author, Newcombe draws from his many life experiences that he believed would resonate with an audience "of a certain age." In addition to being an author and entrepreneur, Newcombe is an avid reader, writer and traveler. He lives in Los Angeles with his wife, Anna, and their two daughters.
Share:
---
Tags: #ICan'tSee, 50+, Ageism, ankle, back, bad knees, breathing, childrearing, dad bod, old, sorry, wrinkles
---