Sordoni Construction Co. Leaders Host a Professional Development Day at Employment Horizons Inc.
Press Release
•
Apr 13, 2023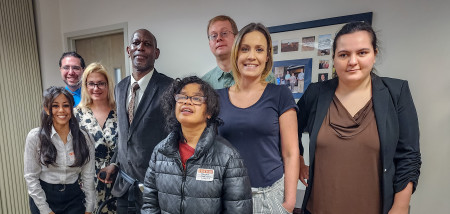 CEDAR KNOLLS, N.J., April 13, 2023 (Newswire.com) - Sordoni Construction Co. provided many career training sessions to prepare participants for professional interview experiences. To keep the tradition, Employment Horizons Inc. welcomed Sordoni's leaders to a Professional Development Day at their Cedar Knolls, NJ, agency on March 30.
Business leaders dedicated three hours to five participants with a group workshop, mock interviews, and resume critiques. "It was wonderful to participate in this event and meet bright and capable individuals looking to enter and/or return to the working world," said Tim Lorenzo, Sordoni's Director of Human Resources. "This opportunity allowed these individuals to showcase their skillsets, develop more self-awareness, and increase their confidence to enter the workforce," said Jamie Osborn, Employment Horizons' Manager of Training and Education.
The day started with a group discussion about interview preparations such as disclosure, professional attire, and more. The participants utilized this information for the mock interviews. Each participant engaged in at least one mock interview with one of two Sordoni Representatives and received advice on how to improve.
It was an impactful experience for business leaders and participants. "The opportunity our clients had to interact and share personal experiences really stood out," said Lindsey Crean, Employment Horizons' Employment Support Professional. "Tim took the lead to point out important topics and provided a professional interview experience to our valued clients." "The discussion about how interviewees and interviewers should address disclosure was a learning experience for all of us," said Melissa Mendez, Sordoni's Marketing Coordinator.
The day ended with a discussion on the takeaway of the session. Handel Bernard stated, "This experience reminds you of the things you need to do to prepare yourself. Asking the interviewer questions shows that you're excited for the job." Sharon Cortezano stated, "This was a good practice run to showcase our skills and know what to improve on." Sergey Zaytsev stated, "I definitely benefited from this session and I feel more confident on interviews going forward."
Sordoni's leaders were happy to dedicate their expertise and generosity to develop professional growth for real-world interview scenarios. "Thank you again for this fantastic opportunity and for offering your time to help support our clients in reaching their vocational goals," said Jamie. "We cannot thank you enough for supporting our mission at Employment Horizons."
About Sordoni Construction Co.
Bedminster-based Sordoni Construction Co. is committed to a level of responsiveness that is not typical in major construction. Their leaders are accessible and personally attentive to each client and project. To learn more, go to sordoniconstruction.com.
About Employment Horizons Inc.
Employment Horizons provides services to those with disabilities and barriers in order to gain employment through employment opportunities and innovative programs such as this event. To learn more, go to http://www.ehorizons.org.
Source: Sordoni Construction Co.