Sophia the Robot Comes to Bahrain for the First Time to Participate in the 3rd Middle East and Africa FinTech Forum
Press Release
•
updated: Feb 6, 2019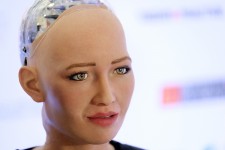 MANAMA, Bahrain, February 6, 2019 (Newswire.com) - ​The world's most famous robot Sophia will be visiting Bahrain to attend the third Middle East and Africa FinTech Forum, which will be held on Feb. 21, 2019, and hosted by Bank ABC and Arab Financial Services, under the patronage of the Central Bank of Bahrain.
At the MEA FinTech Forum, Sophia will talk about the future of AI and how it will affect financial services, Sophia is particularly well-placed to offer insight into the future of artificial intelligence, and she will be joined at the Forum by her creator David Hanson, founder of Hanson Robotics.
Commenting on Sophia's participation in the Forum, Sael Al Waary, Deputy Group CEO of Bank ABC and Chairman of AFS, said: "When I look to the future of financial services, I know that artificial intelligence and other forms of innovation are going to fundamentally change how we work and live. Many applications of these technologies are already appearing in finance, even if consumers are not aware. I want us as an industry to be ready for these changes, and be ready to take advantage of the opportunities they present."
AI is increasingly important to banking, but how it will affect the industry in the future is uncertain. According to recent research, financial services firms are the largest investors in AI and will have spent close to 10 billion USD by 2020.[1] More than 75 percent of global finance managers believe that AI will be key to making their businesses successful in future, but only around 25 percent of banking employees are ready to engage fully with AI in the workplace.[2]
Since her activation in 2016, Sophia has become an international celebrity. She has traveled the world and engaged in conversations about artificial intelligence (AI), robotics, and the future of the relationship between humanity and robots. In the last year, she has received her first pair of working legs and learned to sing and play the piano.
This is the first time that Sophia will visit Bahrain, which is the latest in a series of firsts for Sophia. She was the first robot to receive citizenship of a country (Saudi Arabia), and the first robot to receive an official appointment from the United Nations.
Sophia has been described as a "cultural icon" and has appeared on television programs including 60 Minutes (USA), Good Morning Britain (UK), and The Tonight Show with Jimmy Fallon (USA), as well as in publications including The Guardian, the New York Times, the Wall Street Journal, and Elle. She has also appeared in music videos and a feature film.
Ends
NOTE TO EDITORS
Under the patronage of the Central Bank of Bahrain, and hosted by Bank ABC and AFS (Arab Financial Services), the Third Middle East and Africa FinTech Forum 2019 is an invitation-only event, exclusively for business leaders, FinTech experts, policymakers, regulators, representatives of the investor community and those in the Finance and Technology fields to discuss a wide range of issues related to the future of banking.
It will take place at the Ritz-Carlton Hotel, Manama, Bahrain on Feb. 21, 2019.
Limited media accreditation is still available. If you would like to attend, please email ruba.abosaleh@zincnetwork.com
[1]https://advisory.kpmg.us/events/podcast-homepage/advice-worth-keeping/podcast-banks-spending-ai.html
[2]https://www.accenture.com/us-en/insights/banking/future-workforce-banking-survey
Source: Bank ABC
Related Media
Additional Links