Somnera Announces US Launch of New Treatment Technology for Sleep Apnea
Somnera Inks Distribution Agreement with Leading US Sleep Retailer
Press Release
-
updated: Sep 29, 2020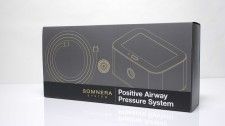 SAN CLEMENTE, Calif., September 29, 2020 (Newswire.com) - Somnera, Inc., (Fresca Medical, Inc., d.b.a. Somnera Inc.), a privately held sleep solutions and connected health company, announces the launch of the Somnera™ System for Sleep Apnea patients. This is the first sleep apnea technology that provides positive airway pressure without the continuous high airflow of CPAP, thus creating a much more natural breathing experience that doesn't require a humidifier. The system is smaller than traditional CPAP devices and offers new features designed to engage and delight customers in search of new treatment options in the rapidly growing sleep apnea market. The U.S. FDA cleared the Somnera System in June of 2020, and the company is preparing for high-volume manufacturing to meet increasing demand in respiratory healthcare. The Somnera System will be available exclusively through www.TheCPAPShop.com.
Somnera's recent clinical study demonstrated effectiveness in treating Sleep Apnea and equivalence to CPAP, using the most well-recognized outcome measures. "This is the second randomized trial that demonstrates the safety and efficacy of Somnera in treating sleep apnea. Sleep apnea is often tough to treat because some patients cannot tolerate CPAP and many abandon treatment," said Richard K. Bogan, MD, study investigator, Associate Clinical Professor at the University of South Carolina School of Medicine, Associate Clinical Professor at the Medical University of South Carolina in Charleston, SC, and Chair of the National Sleep Foundation board of directors. "There is a vast patient population who could benefit from an additional treatment option." The system has been strategically developed to fit within existing diagnosis, treatment, and reimbursement pathways, and will be sold via existing sleep product retailers. The Somnera System will be sold along with the dedicated SleepBridge™ Patient Services program, a comprehensive onboarding and support program that will be provided at no charge to each new Somnera user.  
"As the number of sleep apnea diagnoses grows and reliance on CPAP continues to increase, the number of people who struggle with long-term adherence to CPAP therapy also increases. We are proud to work with Somnera on the launch of this disruptive, low-flow technology that can potentially benefit thousands of CPAP patients who are unsatisfied with traditional CPAP therapy," said Anthony Zadnik, CEO of Agile Medical. "Somnera will be available for purchase and supported exclusively at The CPAP Shop."
To find out more, click on the following link: http://bit.ly/somnera-revolution.
About Somnera
Somnera is a privately held sleep solutions and connected health innovator focused on improving the lives of millions of patients suffering from Obstructive Sleep Apnea (OSA). The company secured its first FDA clearance in 2018, followed by the clearance of its launch-ready Somnera™ System in June 2020. The Somnera System is small, lightweight and easy to use, ushering in a new era of sleep for OSA patients. Somnera's technology is cloud-connected, enabling the latest advances in cloud-based data analytics, patient engagement, and automated reorder/subscription models. Somnera holds six issued U.S. patents, has completed two randomized clinical studies demonstrating equivalent effectiveness to CPAP, and will launch in the U.S. in the fourth quarter of 2020. Somnera's dedicated and experienced management team is poised to capture share in the $35B available market for OSA therapies. For more information, or to be one of the first to own a Somnera System, visit us at www.somnera.com.
About Agile Medical
Serving customers since 2004, Agile Medical is an innovative health care retailer specializing in the diagnosis and treatment of sleep apnea and respiratory therapy. With an emphasis on delivering personalized, comprehensive customer care, Agile Medical focuses on offering a wide selection of hand-picked, quality products all designed to improve your quality of life. The Agile Medical family of brands includes The CPAP Shop, The Oxygen Concentrator Supplies Shop, and Sleep Care Online.
Source: Somnera, Inc.
Share:
---
Categories: Medicine and Healthcare
Tags: CPAP, FDA Approved, Respiratory System, Sleep Apnea
---