Solodev Launches New AI Services for Rapidly Deploying Models in the Cloud
Press Release
•
Sep 15, 2023
The cloud services leader has announced two new offerings in its AI portfolio: Solodev AI Launch, designed for AI professionals with advanced applications, and Solodev AI Discovery, for guiding organizations in the early stages of exploring AI.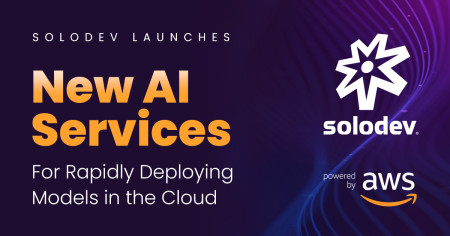 ORLANDO, Fla., September 15, 2023 (Newswire.com) - Solodev, the cloud services company, today announced the launch of two new offerings in its growing AI portfolio: Solodev AI Launch and Solodev AI Discovery. The services provide a complete ecosystem of options depending on an organization's AI maturity, from early stage to advanced, leveraging Solodev's deep experience across the Amazon Web Services (AWS) AI/ML stack. The new services help ensure that modern digital organizations can take greater control of their AI goals, accelerate their adoption, and not risk falling behind.
As enterprises invest in artificial intelligence, the cloud presents a gateway for harnessing the necessary resources to execute high-utility AI strategies. Designed for AI professionals with existing models, Solodev AI Launch provides a package of services for high-performance training at scale, securely hosted on AWS. Solodev's team of cloud and AI professionals provides the right infrastructure solutions to launch AI models efficiently in secure regions that insulate corporate data from public pipelines.
With automatic model tuning and monitoring, Solodev AI Launch deploys the right tools for delivering the highest accuracy with the lowest cost. Solodev's engineers can help create the proper workflows to meet the most demanding training requirements, accelerate time to market with new AI capabilities, and solve the cost and security challenges of hosting and scaling models.
"AI is moving fast, and many companies are in danger of getting left behind," said Shawn Moore, Chief Technology Officer at Solodev. "The cloud is the answer, and our AI Launch services can help bridge the gap for deploying and training models faster and more efficiently, powered by AWS."
Solodev AI Discovery offers a more consultative analysis for companies exploring artificial intelligence. Working with a Solodev AI adviser, customers receive a comprehensive report on their AI posture and where specific solutions might fit based on a company's goals.
"Many organizations don't know where to begin their AI journey," said Moore. "That makes sense, as AI can be complex and expensive. This is where our AI Discovery helps mitigate the risk, giving you hands-on analysis and recommendations from experienced professionals before you start buying and building."
As an AWS Advanced Technology Partner, Solodev continues to work at the cutting edge of cloud-based AI services. To learn more about Solodev AI Launch and Solodev AI Discovery, contact Solodev.
_______________
About Solodev
Solodev is the internet's largest cloud and digital experience technology ecosystem - from serverless to AI. With Solodev, developers and organizations can build unique customer experiences, deploy containers and blockchain apps, launch marketplaces, and collaborate on digital transformation. Solodev Cloud Services also provides consulting, training, managed services, and support to help users succeed on their cloud journey. For more information, visit www.solodev.com.
For media inquiries:
Matt Garrepy
press@solodev.com
Source: Solodev