sojo Announces $6.2 Million Series A Funding to Improve Amenity Automation
Press Release
•
Feb 9, 2023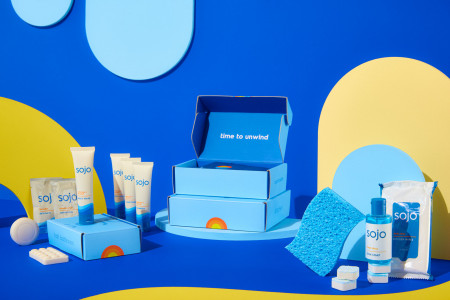 IRVING, Texas, February 9, 2023 (Newswire.com) - sojo, the vacation rental industry's first automated amenity platform, has raised $6.2 million in Series A funding, led by Ballast Point Ventures and including Jason Sprenkle, CEO of Key Data Dashboard. The new funding will be used to invest in technology and personnel to support sojo's dynamic solution that leverages reservation data and guest preferences to automatically ship the best-fit amenities, gifts, and more for each guest's stay.
Offering "amenities on autopilot", sojo was founded to remove the headache of ordering, storing, and coordinating supplies by automating turnover operations. sojo provides property managers with the ability to connect reservation calendars to its platform to automate the delivery of bathroom amenities, laundry products, kitchen amenities, pantry stock, maintenance items, and even guest gifts.
Property managers can choose from a catalog of quality, eco-friendly products designed with guests in mind, and have the option to customize and private-label product packaging for a one-of-a-kind guest experience.
"Whether you manage 5 or 5,000 vacation homes, sojo is designed to make life easier," said Founder and CEO of sojo Max Farley. "Gone are the days of shipping products to your office, hiring staff to manage the kitting and fulfillment process, and dealing with errors and inconsistencies at every turn. There's a growing demand for this type of support in the vacation rental space, and this partnership with Ballast Point will allow us to build out technology that best serves our customers. We're very excited to have their support."
"As BPV has gotten to know Max, we have been very impressed with the growth and success that sojo has been able to achieve at a rapid pace - there is a clear need for the company's dynamic solution in the space. Given our focus on partnering with rapidly growing private companies in the Southeast and Texas and our prior investment and experience within the short-term rental market, sojo is a great fit for us," said Ballast Point Ventures' Partner Robert Faber, who will join the sojo Board of Directors. "We are excited to partner with Max and the entire sojo team to drive continued growth."
About sojo
sojo is the vacation rental industry's first automated amenity platform, offering curated supply kits to improve the guest experience and improve turnover operations. sojo simplifies operations for short-term vacation rental managers of all sizes, from individual hosts to enterprise-level operations. For more information, visit getsojo.com.
About Ballast Point Ventures
Ballast Point Ventures, headquartered in Tampa, Florida, is a later-stage venture capital and growth equity fund founded in 2002 to provide expansion capital for rapidly growing, privately owned companies, with a particular emphasis on companies located in Florida, the Southeast and Texas. The BPV partners have more than 80 years of combined experience investing in and building high-growth companies in several industries, including software, technology-enabled business services, and healthcare. Ballast Point Ventures has over $500 million under management across four Funds and seeks to make initial equity investments ranging in size from $5 million to $15 million. For additional information, visit www.ballastpointventures.com.
Source: sojo
Tags