SoftStone, Inc., "Creator of Joy:" EQ Product Line Earns Prestigious International Awards
Press Release
•
updated: Nov 29, 2016
New "EQ" - Emotional Intelligence Line of Products For Young Children by SoftStone, Inc. Excites Educators, Reviewers & Media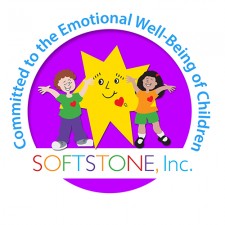 Mt. Laurel, NJ, November 29, 2016 (Newswire.com) - ​​​SoftStone Products new early childhood teaching and parenting program that develops the 7 attributes of emotional intelligence, known as "EQ" earns coveted Santa Choice Award and Marriah Media Gold Award.
SoftStone, Inc. was formed more than 20 years ago in an effort to bring children a program that would develop their social and emotional learning skills. Research indicates that the emotional brain develops the fastest from birth to 6 emphasizing that social and emotional skills are not innate and need to be taught and modeled.
"Social media provides a great vehicle for teaching these important "EQ" skills online and elsewhere. Our world is inundated with out of control behaviors that cause so much violence and negativity. We welcome SoftStone and the "CJ" product line into the lives of the families that we serve at Marriah Media around the world. Thank you SoftStone for bringing the Creator of Joy! "CJ" to us all.

Colleen Kelly, President and CEO, Marriah Media
These skills are 80% the reason we are successful in life. In the "Voices of CJ" program, the featured character CJ, abbreviated for "Creator of Joy," teaches children the 7 attributes which include empathy, self-confidence and motivation, delaying gratification, self-soothe and calm, forgiveness, sustaining hope and intention and persisting in the face of frustration.
These skills not only help provide emotional well-being but also help to eliminate the behaviors of bullying and mean harmful voices. Educator, Inventor, Consultant and Early Childhood Development Expert, Karen Stone initiated this concept from her own experiences of having been bullied in addition to her family's dysfunctional dynamics.
"Children are exposed endlessly today to media that makes them vulnerable. Family quality time is seldom a priority with technology present even at the dinner table. Parenting is more difficult than ever. This program provides all caregivers of young children a fun, engaging, stimulating adventure into the world of appropriate social and emotional learning," says Karen Stone. She adds, "Social media now provides a great vehicle for teaching these skills online. Our world needs this desperately as we are constantly barraged with the out of control behaviors that cause so much violence and dissidence."
The entire SoftStone Product Line, including The "CJ" Parent Package comprised of CJ, the children's book, "Joy, What A Way To Feel," and a parent guide," A Guide to Teach the 7 EQ Abilities at home," with activities to build these skills as part of the family's daily activities is available on Amazon.
The EQforChildren.com website provides games and activities for parents, teachers and children to play together.
About SoftStone Products: SoftStone, CJ and his family of characters hope to heighten the awareness of the importance of raising the new generation of children with emotional intelligence. Children with emotional intelligence are able to sustain their lives with an emotional well-being and awareness that promotes kindness, compassion, accountability, resilience, and peaceful, loving environments. We hope to leave them a legacy of a more genuine world.
About Karen Stone: Karen Stone, BA, Special Ed, MA, Learning Disabilities, has worked in the education field for more than 45 years and has authored an anti-bullying blog: www.howwestopbullying.com. This blog is an outgrowth of Karen's education background and her own experiences being bullied from childhood to early adulthood, at home and school. Her new EQ blog on EQforChildren.com addresses a positive approach to helping children address harmful voices. Karen's work is also influenced by her experiences raising a son with significant disabilities. She has committed to having persons with disabilities reproduce and distribute a selection of her materials.
Media Contact:
Jeanne Murphy
Jeanne Murphy Public Relations
Jeanne@JeanneMurphyPR.com
908-752-5179
www.JeanneMurphyPR.com
Source: Jeanne Murphy Public Relations on behalf of SoftStone
Related Media
Tags
Additional Links