Social Media Industry Leaders Come Together for Digital Marketing Conference in Ann Arbor
#SOCIALCON 2016: A daylong experience of high-level digital marketing education and hands-on workshops
Press Release
-
May 5, 2016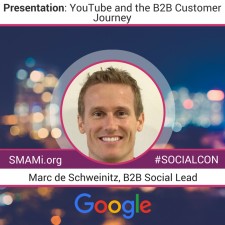 Ann Arbor, MI, May 5, 2016 (Newswire.com) - The Social Media Association of Michigan will host its second annual Social Media Conference & Retreat, now rebranded as #SOCIALCON, from 7 a.m. until 6:30 p.m. May 13 at the Marriott in Ann Arbor.
#SOCIALCON is a daylong experience of high-level digital marketing education and hands-on workshops designed to provide entry-level through seasoned industry professionals with actionable social media strategies and insights.
This event will feature presentations from digital experts at top brands including Chad Schaeffer, Social Customer Service Lead at Salesforce and Marc de Schweinitz, B2B Social Lead at Google.
Hands-on workshops will be led by advertising agency and client-side executives on various topics including "Measurement, Data, and Analytics" and "Social Media and FTC Compliance."
"This iteration of our social media conference and retreat will provide digital marketers at all levels of expertise with deep insights and hands-on learning to enable them to produce exceptional results for their clients and the brands they support" said Sola Obayan, President and Executive Director of the Social Media Association of Michigan.
In addition to the conference program, attendees will have the opportunity to network and connect with conference speakers during the closing party and book signing.
The book signing will showcase social media marketing book authors Susan Emerick, Author of 'The Most Powerful Brand on Earth' & Gina Luttrell, Author of 'The Millennial Mindset' and 'How to Engage, Share, and Connect.'
Tickets for #SOCIALCON start at $89.
For more information and to purchase tickets, visit http://bit.ly/a2socialcon.
#SOCIALCON is sponsored by Newswire.com, YP, GoSocialDetroit.com, and supported by the Ann Arbor Convention and Visitors Bureau.
About the Social Media Association of Michigan
The Social Media Association of Michigan was founded in 2012 with the mission "to promote social media as an impactful communication vehicle through statewide education, adoption of social platforms and dissemination of successful social media solutions in public and private sectors." SMAMi Members are Michigan-based organizations, professionals, and students with a strong interest in leveraging social media successfully.
For more information and to join our mailing list for event related announcements, please visit http://www.SMAMi.org.
Source: Social Media Association of Michigan
Share:
---
Categories: Advertising, Business Technology, Marketing, Social Media
Tags: Ann Arbor, Detroit, Digital Marketing, Education, Michigan, SMAMi, Social Media, Social Media Association of Michigan
---