Social Media App Pixwup Funds Projects to Help End Poverty via Social Networking and Group Economics
With Pixwup, the map is the heart of content discovery having users create content by location.
Press Release
-
updated: Jul 26, 2017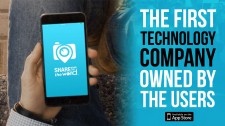 London, United Kingdom, July 26, 2017 (Newswire.com) - Pixwup is a socially conscious social networking platform. Its intuitive interface allows users to upload their own content for public or private viewing, view trending items, and quickly and easily browse images and videos posted anywhere in the world. Just by sharing a photo or video once a week on Pixwup, its collective membership can together build a system that will work to address poverty.
Pixwup stands for People's Information Exchange World Unity Project. The app will raise funding via data creation and advertising based on users and group economics. The profits generated will then be distributed to projects, charities, and causes that work to end poverty based on how the end users vote.
Unlike other social networking platforms, places are a central element of almost all the content shared and consumed on Pixwup. Users can explore trending events, share and review best places to eat, find the hottest nightlife spots, leave memories while they travel, find people with similar interest nearby, and much more. The app is easy to use. To add content the user simply takes a picture in-app or selects from their image and video library, and enters hashtags and comments. The location is automatically defined based on GPS. The app also offers recently used and trending hashtags for quick data entry.
"This is an exciting social sharing platform that gives the end user many exciting features and content sharing ability, but is at its heart working to end poverty,"  says Qasim Chaudri, the founder of Pixwup. "The creation of this app came out of my own personal desire to build water wells after I survived blood cancer. I wanted to sell reusable water bottles that had GPS coordinates printed on them. Then, donors would be able to go on Google Earth to see the well they had built. However, Google Earth does not update fast enough so I came up with the idea to build a geo-based photo sharing platform that is open to all."
Pixwup is currently available for free download on Apple iTunes.  More information can be found on the app's website at Pixwup.com.
About Pixwup
Pixwup is a socially conscious social networking geo-based photo sharing platform app. It was created by Qasim Chaudri and out sourced for development to Compsoft plc which has been specializing in mobile since 2009, having designed and developed web-based applications for many years prior. For more information, visit Pixwup.com.
Source: Pixwup
Share:
---
Categories: Entrepreneurship, Internet and e-Commerce
Tags: big data, end poverty, humanitarianism, Social networking
---