Soccer and Rugby Imports Upgrades Website With New and Enhanced User-Friendly Features
New York and Connecticut-Based Soccer and Rugby Equipment Company Adds Store Pick-Up, International Shipping, Online Gift Cards, & Social Media Trending Page
Press Release
-
Feb 9, 2016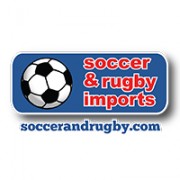 Southport, CT, February 9, 2016 (Newswire.com) - Soccer and Rugby Imports continues to upgrade their website adding new and enhanced user-friendly features including Store Pick-Up, International Shipping, Online Gift Cards, and a Social Media Trending Page.
Soccer and rugby enthusiasts can now do more on Soccer and Rugby's website, including arranging in-store pickups at any of the five store locations, shipping purchases overseas, buying online or in-store gift cards, following the company's social media sites, and more. In addition, the site allows customers to shop by club, country, apparel, footwear, and equipment type.
"We live in an age of increased online shopping and user connectivity," said Giovanni Mendez of Soccer and Rugby Imports. "Our website is a reflection of these times and aims to help fans of the different brands to stay up-to-date on not only the latest gear, but to interact with us and with each other on our social media sites."
The website offers free standard shipping to the lower 48 states on orders of $90 or more, and most orders ship within 24 hours.
It is now possible to purchase your gear online from Soccer and Rugby, and then pick it up at any of the four Connecticut locations (Southport, Ridgefield, Greenwich, and Madison) or at their New York State store in Bronxville. Customers that are curious about what other soccer and rugby players and fans are buying can visit the "Trending" page, where all the top-selling items are listed. Also, there are links to the company's social media pages on Facebook, Twitter, YouTube and Instagram. 
Soccer and Rugby not only carries jerseys and accessories from some of the more popular countries such as Argentina, Brazil, England, France, Germany and the U.S.A., but also stocks Women's World Cup, Copa America 2016 and EURO 2016 merchandise.
They carry a large assortment of training jerseys, jackets, shorts, pants, shirts, field gloves, and more, as well as the latest footwear styles by Nike, Adidas, New Balance and Puma, plus balls, mouth guards and even gear for the women and men in stripes.
About Soccer and Rugby Imports
Soccer and Rugby Imports was established in 1993, beginning its first seven years in a small retail strip in Westport, CT. The Avalos family took over the business in the year 2000 and quickly began to outgrow its modest Westport location. In 2004, as the popularity of soccer in the area increased, as well as the reach of the business, the store moved to nearby Southport, CT. Four more locations have opened in the subsequent years: Ridgefield, CT, Greenwich, CT, Madison, CT, and Bronxville, NY.  Soccer and Rugby Imports has been supplying Connecticut's soccer clubs and organizations across the country and abroad for the past 20 years. From cleats and practice gear from the retail shop to customized jerseys, shorts, warm ups and backpacks from the Team Sales department, thousands of people have been linked to Soccer and Rugby Imports. Soccer and Rugby Imports also carries exclusive gear.
For more information, please visit www.soccerandrugby.com or call 1.800.726.8626.
###
Share:
---
Categories: E-Commerce and e-Business, Soccer, Rugby
Tags: Buy Rugby Gear, Buy Soccer Gear, e-Commerce Store, Rugby Equipment, Rugby Gear, Soccer and Rugby, Soccer and Rugby Imports, Soccer Equipment, Soccer Gear
---