Snips Introduces New Influencer Campaign to Promote Original Content at Scale
Now Available: Performance-Based Social Stories Campaigns Make it Easier than Ever to Promote News, Blogs, Videos, Photographs and Other Original Content
Press Release
-
updated: Nov 17, 2016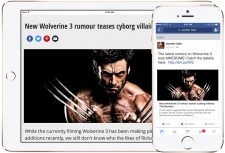 CHICAGO, ILL, November 17, 2016 (Newswire.com) - Snips Media today unveiled Social Stories, a new influencer marketing campaign offering to help content creators and publishers easily and effectively promote their original content through influencers. Social Stories is the first programmatic marketplace that connects content creators and influencers at scale with the purpose of sharing and promoting original content seamlessly across social media, web, mobile apps, email and messaging platforms.
"Social media is no doubt the ultimate place for discovering original and engaging content. But despite incredible messages and visuals, many creators struggle to reach their audiences," said David Zaretsky, CEO and founder of Snips. "Social Stories was created as a programmatic marketplace that puts awesome content directly into the hands of influencers, ready to share with fans across their social channels."
Social Stories is the latest addition to the Snips social influencer network and campaign platform, which connects advertisers with audiences of influencers to amplify the reach of marketing campaigns. It builds on Snips' popular Social Buzz offering that re-invented the concept of sponsored posts, and is uniquely designed for content creators and publishers who wants to drive viewership and engagement by promoting their shareable content through influencers.
Influencers can search for Social Stories by category or keywords, or receive recommended stories and viral content to share based on their interests and demographics.
"Snips has already launched Social Stories campaigns across more than 20 categories, including fashion, entertainment, politics, health and music." said Zaretsky. "We are adding new stories every day including funny articles, news, movie trailers and other viral content."
Like all Snips campaigns, Social Stories operates on a performance-based cost-per-click (CPC) model, so content creators only pay for quantifiable engagements by real people. All Snips influencers and advertisers can access Snips free suite of tools to better share content and transparently measure audience engagement across social channels.
For more information, visit: https://sni.ps/advertisers/social-stories.
About Snips Media
Founded in 2013, Snips is the only performance-driven influencer network that connects brands with audiences across all digital platforms—social media, web, email, mobile apps, text messages. Through Snips, advertisers can work with social influencers to promote content, run online contests and giveaways, or sponsor organic content with high-impact advertisements. More than 15,000 influencers and brands rely on Snips' network to create monetization opportunities and drive audience engagement. For more information visit http://sni.ps/.
Source: Snips Media
Share:
---
Categories: Advertising, Social Media, Media and News
Tags: advertising, influencer marketing, social media
---