Snips Collections Lets Consumers Shop Influencer Photos and Videos
Snips Media Launches Collections to Offer Influencers a New Marketplace to Monetize Their Photos and Videos on Instagram, Snapchat and More
Press Release
-
updated: Nov 30, 2017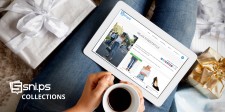 CHICAGO, November 30, 2017 (Newswire.com) - Snips Media today unveiled Snips Collections, a unique marketplace for social fans to shop their favorite influencer's photos, videos and YouTube channels. With Collections, influencers can tag shoppable products featured in their photos and videos, then share them across any social media, website, email, mobile app or messaging platform. Fans can click to buy items directly from an influencer's Collections, with the influencer earning a commission on every fan purchase.
"Snips has created an entirely new marketplace that connects consumers with influencers of all different interests on Instagram, Pinterest and Snapchat," said David Zaretsky, CEO and founder of Snips Media. "Fans can now shop influencer Collections of fashion, beauty tips, cooking recipes, and even tech gear."
The company is also announcing partnerships with many top brands and retailers, including Macy's, Bloomingdale's, Walmart, Best Buy and Jet. Through these partnerships, influencers can access tens of millions of shoppable products, which they can instantly tag in their photos and videos. Brands can also collaborate with influencers to promote specific products in their Collections or by featuring special coupons and deals.
"This year, we saw the biggest shift from in-store to online shopping," said Zaretsky. "Snips is revolutionizing the social shopping experience with Collections by bringing together influencers, brands and consumers wherever they are."
In addition to monetizing social media, Snips Collections also equips influencers and brands with real-time analytics, deep insights and audience demographics to better understand their fans and likely consumers. Influencers and brands alike can exclusively access this data to optimize their content strategy and maximize revenue.
"Snips is an influencer marketing company that leverages data science to arm our influencers and brands with cutting-edge technology that drives success," Zaretsky explains. "Social media is rapidly evolving, and so we're constantly innovating new tools for influencers and brands to stay several steps ahead."
Snips Collections are available immediately to members of the Snips Influencer Network. For more information, visit https://sni.ps/collections.
Media Contact
Melanie Mesker
pr@snipsmedia.com
Source: Snips Media
Share:
---
Categories: Advertising, Marketing, Fashion and Apparel, Social Media, Lifestyles, Arts and Entertainment, Shopping
Tags: beauty, blogger, brands, collections, fashion, Influencer, influencer marketing, instagram, monetize, shop, snapchat, snips
---