SMOS - the Ultimate Game Controller for Android Phones Launches on Kickstarter
Press Release
•
updated: Jan 9, 2019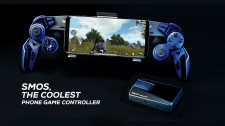 HONG KONG, January 9, 2019 (Newswire.com) - SMOS, the most advanced gaming controller for Android phones, launches today on Kickstarter, available now here:
https://www.kickstarter.com/projects/1630207356/2032328965?ref=4cyyp6&token=cfeee98b
Smartphones have ushered in a mobile gaming revolution, and everyday games get more impressive. But one persisting problem is the fact that mobile phones are difficult to play games on. Today that changes with the release of SMOS – the most advanced game controller available for Android phones.
Mobile gaming has become serious business, and now innovative companies have responded with game controllers that give phone users arcade-like quality, finesse, and control. SMOS is equipped with 18 different configurable keys, two thumbsticks, D-pads, and two paddles, along with an array of buttons that deliver ultimate control for any gaming action. Answering consumer desires for a high-quality controller that can handle the latest Android mobile games, the team at SMOS set out to create a phone controller that would rival consoles and arcades.
"We are not just engineers and makers; we are also mobile gaming enthusiasts. Like many people, we enjoyed mobile games but lacked the proper control to achieve a high level of play. Our goal was to create a controller that had the same performance as the best console controllers on the market, yet was light, portable, and stylish. After 3 years of research and development, we are ready to bring SMOS – the ultimate Android game controller, to the world," said Steven Li, the CEO of SMOS.
Unlike other mobile gaming controllers, SMOS is the first controller made for Android phones with universal game compatibility. As long as the game is available on your phone, it will work with SMOS with no phone root or modification needed. With SMOS, you get into the action fast with plug-and-play simplicity.
What makes SMOS different is the high quality, precision, mechanical keypad, and control design. The thumbsticks have the same quality, feel and finesse of PlayStation and use the same ALPS sensor that Sony puts in their controllers. SMOS uses the latest mechanical triggers with short key travel distance and buttons with low resistance that result in faster input actions.
This design improves input recognition and eliminates dead-zones. The SMOS buttons feature advanced circuitry for instant reaction with no lag time, and the hollow case design allows airflow through the controller that makes long-term gaming comfortable and cool. With 18 keys, two thumbsticks, and D-Pads, SMOS can perfectly control every possible gaming function. This controller is comfortable, ergonomic, and designed for maximum efficiency.
SMOS launches on Kickstarter with special discounts for early adopters. For more information about SMOS visit the campaign here: https://www.kickstarter.com/projects/1630207356/2032328965?ref=4cyyp6&token=cfeee98b
Media Contact: vip@smos.com
Source: SMOS
Related Media