Smile Through Cars Casino Launch Event
Press Release
•
updated: Sep 10, 2019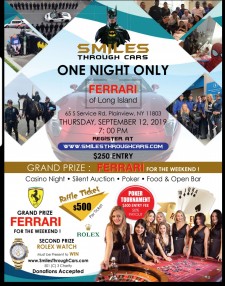 PLAINVIEW, N.Y., September 10, 2019 (Newswire.com) - On Thursday, Sept. 12, Smiles Through Cars will have their much-anticipated casino night launch event at the swanky Ferrari of Long Island at 65 S. Service Road, Plainview, NY 11803.
Celebrities and VIPs Expected at this event are Josh Aryeh (Batman Real Account), founder and CEO of Smiles Through Cars, Tina Milosavljevic, President of Smiles Through Cars, Jen Selter (Fitness Influencer), Steph Selter (Instagram Influencer), Jill "Mama" Selter (Instagram Influencer) Angelica (hip hop artist), Dawn Flo (celebrity lawyer), Fat Boy (Instagram Influencer) Fatjoe (Celebrity), Don Ghermezian (CEO of American Dream Mall), and many others.
Sponsors for the event are: American Dream Mall, KBG Luxury, Arilan Skincare, Seventeen Productions, The Book Sweepers, Icelandic Glacial, Vivva XXX2 Tequila, D Seventeen Productions, Lux Miami Exotic Car Rental, Arilan Skincare, Reklys Active Wear, Power Twist, Impressive Autobody, Sweet Treats Etc, Millennial Plastic Surgery, Catapult Lighting, Music Flip Corp.
"I'm very passionate about the charity and I want to bring about awareness about what we do. We decided to use the casino night to bring this to the forefront and want to thank our sponsors for helping us with this event," said Josh Aryeh, Founder and CEO of Smiles Through Cars.
The cocktail hour starts at 7, press check-in is at 7:30 p.m. and the red carpet arrivals are at 7:45 p.m. The casino poker event starts at 7:15 p.m. and valet parking is available. Business attire is requested.
MEDIA RSVP: tina@smilesthroughcars.com
More info about the festival: https://smilesthroughcars.com
Ticket/pre-registration info: https://www.smilesthroughcars.com/events
Source: Smiles Through Cars