Smart Industry 2022 Event With Virto Commerce & Innovadis
Press Release
•
May 5, 2022
Virto Commerce becomes the primary sponsor for Smart Industry 2022, a leading event on digital transformation within the European manufacturing industry.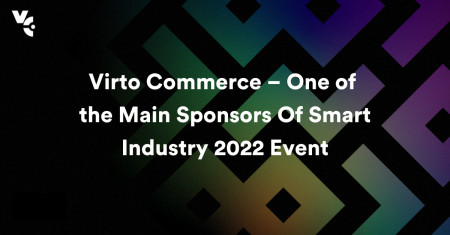 ENSCHEDE, Netherlands, May 5, 2022 (Newswire.com) - Virto Commerce, a leading provider of B2B digital commerce solutions, is delighted to announce that it is partnering with Innovadis, the event's organizer and Virto's long-time solutions partner, to sponsor this year's Smart Industry event, a high-level conference on digital transformation and technology breakthroughs in the manufacturing industry.
Smart Industry 2022 will take place on May 12 in Enschede, Netherlands, in a beautiful, stone-built medieval church with a fairy tale-like clock tower. Despite the historical location dating back centuries, this year's agenda is brand new, action-packed, and futuristically disposed: Smart Industry 2022 is dedicated to Sustainable Impact Through Smart Innovations. The keynote speakers, André Kuipers and Kim Spinder, together with various other leading experts on the manufacturing industry and digital commerce, will take the event's visitors on an exciting journey to the industry of the future.
Virto Commerce, represented by Chief Customer Officer Denis Cliford and Director of Sales in EMEA Benjamin Black, is hosting a special event focusing on smart innovations in the Dutch manufacturing industry.
"We are excited to be the main sponsor for this exclusive event," says Denis Clifford, Virto's CCO. "We can't wait to share our experience working for some top manufacturing clients in the Netherlands, exchange ideas, and learn from others. Virto Commerce recognizes the significance of such events in educating end users about the importance of a solid digital solution."
Those who wish to attend the event can check the conference website and buy a ticket here.
Smart Industry is a key benchmarking business event in Europe that brings together companies and business leaders to share their experiences in digital transformation and the implementation of Industry 4.0 technologies. This year, Smart Industry takes place in a magnificent medieval church in Enschede, the Netherlands, on May 12.
Innovadis is a Dutch B2B digital services agency with more than 25 years of experience. The Innovadis team helps manufacturers and wholesale companies define and develop their digital strategy and implement ERP & CRM integrations, PIM systems, E-commerce platforms, service platforms, IoT solutions and other applications.
Virto Commerce, founded in 2011 by industry experts, is a top digital commerce B2B solution provider. A Microsoft Gold Partner, Virto serves more than 100 businesses worldwide and has offices in five countries. Virto Commerce's flagship product, its cloud-based ecommerce, open-source .NET platform, is the only B2B-first headless digital commerce solution designed to adapt to complex scenarios common in the B2B market.
Source: Virto Commerce