Smart Fog Commercial Humidifier Suppresses 100% of the Silica Dust From the Air
Smart Fog's unique decorrelation technology provides a clean and safe working environment.
Press Release
-
Sep 29, 2016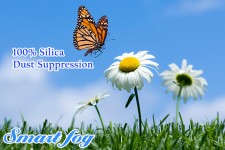 Reno, Nevada, September 29, 2016 (Newswire.com) - Smart Fog's decorrelation technology for commercial humidifiers completely suppresses harmful silica dust from the air increasing worker safety. According to the Center for Disease Control, silica is a major health issue in many industries with more than 250 American workers who die each year from silicosis, a disabling, nonreversible and sometimes fatal lung disease caused by overexposure to crystalline silica. The CDC notes that more than 1 million U.S. workers are exposed to crystalline silica. While there is no cure for the disease, it is 100 percent preventable if employers and workers work together to reduce exposures.
Smart Fog, which has been in business since 1980, is the recognized world leader in non-wetting commercial and industrial humidification solutions.  The company's unique decorrelation technology provides a humidification system that generates 4.2 micron droplets with equal spacing which do not attract to each other but oxidize into the air. As a result, there is 100 percent suppression of silica dust. Many other technologies that work to suppress silica end up wasting energy and water, have high maintenance and replacements, and need specific pressures to operate. In contrast, the technology in Smart Fog's commercial humidifiers save energy (close to 50-90 percent) and water, require low-maintenance and are easy to utilize.
"Silica is a major health issues across industries in the United States. Even the new 3D printing produces silica," says Ido Goldstein, Engineer for Smart Fog. "The silica in the air is micron size and impossible to completely remove with conventional methods. But Smart Fog systems completely suppresses silica dust with minimal moisture, not dampening the exposed environment."
Smart Fog offers one of the best choices for reliable and effective dust suppression systems due to their extensive field experience and dedicated service to their customers. To learn more about the company's unique technology visit, SmartFog.com/Technology.
About Smart Fog Inc.
Smart Fog Inc. is the recognized world leader in the industrial and commercial humidification systems. For more than 30 years, Smart Fog has provided superior service to customers, and their commitment to excellence has earned them a reputation as the best in their industry. To learn more, visit SmartFog.com.
Source: Smart Fog
Share:
---
Categories: Mining, Site and Staff Safety
Tags: dust suppression, glass manufacturing, manufacturing, mining, silica
---