Small Wedding Planning Tips, Budget Wedding Planning Made Easy From the Wedding Officiant
Press Release
•
Oct 5, 2015
Planning a small wedding is as much of a hassle as a large guest list, with less wedding deals. Small numbers mean you have to be more frugal when planning your special day. Budget ideas that work for a small guest list, or planning a destination wedding getaway. Wedding Officiant Chicago Rev Pamela gives pro tips to brides and grooms planning their weddings. Inside budget saving ideas from pro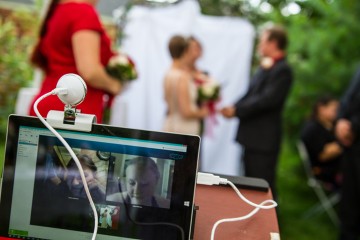 Chicago, IL, October 5, 2015 (Newswire.com) - ​Chicago Wedding Officiant, Rev Pamela has married hundreds of couple over a five state area. She opened her home Pine Manor as a wedding venue, and In 2014 she married 300 couples there. With this kind of experience, she has learned how to plan all aspects of weddings in as little as a few days notice. And now she wants to pass along these tips to the frugal bride planning an intimate wedding and reception for under 30 guests.
Small wedding checklist – How to save Time & Money
Wedding Planning for small weddings made easy. Do it yourself or luck into a place like, Pine Manor Chicago.
Getting deals for a small guest list is almost impossible these days. And planning for 30 or less guests is the same amount of work as planning a wedding for 300. Budget prices are often reserved for large numbers, unless you know where to look. Follow this wedding check list to help you stay organized and find the wedding deals.
1. Buy a journal. Get Organized. Write it down. It's important for any engaged couple to decide what elements of a wedding are the most important. And Make a list of the must haves and a second list of the would be nice to have. Cut back on flower order and printed materials. Plan a digital wedding invitation online instead of printing and mailing them.
2. Budget. Establish a budget before the guest list, and what type of events you hope will be included. Just the ceremony, and cake reception or did you want buffet or a sit down dinner? Do this together as a couple and make a savings plan when you would have that amount of money saved up. This will help you choose your wedding date. Most plans are 6 months to a year.
3. Wedding Date. Choose several dates that you would be good with. Fridays are often cheaper then Saturdays. Seasons will change the price too. Plan a morning wedding with eggs and bacon instead of the cost of a full dinner for the guests. Look for venues that have a wedding officiant included in house. These types of venues tend to cater to a small guests lists
4. One Stop Shop Party Planning. Planning your own or hiring a Party coordinator / planner. Time is money and also a ton of headache, expecially if its the first wedding that you're planning. A professional can save you time, and hopefully with vendor referrals money but also the headaches associated with the coordination. You need to weigh to pros and cons with your future spouse and decide.
a. Small unique venues often have a one stop shop approach to party planning using the same vendors and passing along discounts. Or doing all the work in-house themselves. Do your research, bed and breakfasts, and vineyards, beer gardens all plan parties too. When you're talking to these people, ask if they have contacts with officiant's photographers and musicians who will give you a discount for the referral.
5. Check prices – call more than a few to get comparisons on prices. Go back and negotiate asking your favorite vendors to come down to meet the lowest price quote your received. Business is hard to find and most vendors will negotiate to win your business.
6. Once you have decided if you're going to use a planner or do the work yourself, you need to finalize the venue. You can work with the venue by getting vendor referrals from them. Don't be afraid to say that you want a discount because they were recommended.
a. Local Landmarks, Libraries, Museums, Public Parks and Community Gardens can be beautiful backdrops for your ceremony or reception, but your rental fee goes towards maintaining the facility as well, so you can feel good about the expense.
b. Find a private home or vacation rental. Particularly for a smaller wedding, renting a manor can solve the problem of not only where the wedding is, but where guests will stay
7. Keep it local, small business, get referrals, and read reviews.
a. Use resources that you already have available to you. Everyone knows someone. Call local shops for ideas and referrals.
b. Be creative Inquire about rental costs at unexpected venues, such as local universities
8. Make Your Guests a Meaningful Part of Your Wedding Ceremony. When all is said and done, you and your guests will remember the experience more than the decorations.
a. Ring warming. Pass the rings to each guest who warms the ring with their love
b. Handfasting let multiple participate in tying the knot
c. Candle ceremony. Have guests encircle while you light the unity candle. At dusk they could all hold up a candle lit from your candles
d. Ask people to bring their favorite appetizer to share during the cocktail hour or ask them to bring a bottle of their favorite wine to share.
e. Have a computer set up for guests to share their photos
f. Get a friend to play DJ. download your own music
g. Skype the ceremony to friends and family who can't make it. Don't forget to take a family photo
About the author:
Rev Pamela a Chicago area wedding officiant and wedding day coordinator began marring couples at their location almost 35 years ago. She performs both legal and spiritual marriage ceremonies, Same Sex ceremonies, and legal Pagan Handfastings. She has been featured in many articles in The NW Daily Herald, TribLocal Chicago and Sun times, and featured as the national "wrap" for ABC Radio news airing 12-12-12 regarding the "unique" weddings in her home. Rev Pam was one of five officiants asked to marry same sex couples for the MCA marriage equality celebration June 2nd, 2014. Pine Manor and multiple couples whom the Rev married, along with the Local hotel partner, Country Inn and Suites was the location of My Fox Chicago's Remote for the morning show May 30, 2014 with award winning journalist, Darlene Hill. Videos of the features can be found on our Google Plus page. In April 2015 Pine Manor Chicago was the featured article of the premier issue of CG Magazine, and Rev Pamela was a featured guest with Steve Hirmeron the Sunday Podcast Radio Wedding Expo Show, airing Mid April 2015, Recipient awards include Wedding Wire Brides Choice Award 2013 Bridal couples award 2015, the 2015 Best Business of Chicago Venue for Weddings and Events 2015 by the Chicago Best Businesses Program.
Real weddings at http://PineManorChicago.com accommodates elopements and up to 30 guests. As a courthouse alternative, The 1920s Dutch Colonial home has been hosting weddings in Mt Prospect Illinois since 2011 for wedding ceremonies, dinners and receptions. She provides 5Star service, and budget pricing by managing the entire event and vendor coordination, and making the flowers herself.
Related Media
Tags
Related Files
Additional Links