Small Business Defaults in Illinois on the Rise in December - PayNet
Press Release
•
updated: Feb 15, 2018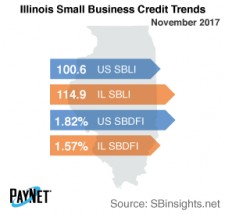 Chicago, IL, February 15, 2018 (Newswire.com) - PayNet, the premier provider of credit ratings on small businesses, reports that in December 2017 the percentage of small businesses defaulting on loans has increased in Illinois. Of the 18 major industries, defaults increased in 9 and dropped in 9 in the state compared to the previous month.
In spite of a 3 basis point increase from November, Illinois' PayNet Small Business Default Index (SBDFI) at 1.61% was still 22 basis points less than the national SBDFI level of 1.83%. Financial health is stronger than a year ago in the state despite the recent uptick in defaults. Over the last year, the national SBDFI has remained unchanged, whereas Illinois' SBDFI dropped 4 basis points.
The industries with the highest default rates in Illinois were Transportation and Warehousing (3.29%); Accommodation and Food Services (2.95%); and Information (2.42%). Nationally, Transportation and Warehousing had a default rate of 4.00%, with a difference of -0.20% compared to the prior year, while Illinois had a variance of -0.91%.
Illinois' PayNet Small Business Lending Index (SBLI) registered at 114.1, outperforming the national SBLI level (100.3) despite falling by 0.3% from last month's state level. The Index increased 2% from a year ago.
"Increased defaults combined with the recent decline in borrowing signals a more pessimistic view of economic prospects," explains William Phelan, president of PayNet.
Source: PayNet
Related Media