Small Business Defaults in Florida Unchanged in March
Press Release
-
updated: May 10, 2017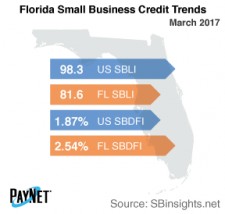 Chicago, IL, May 10, 2017 (Newswire.com) - PayNet, the premier provider of credit ratings on small businesses, announces that in March 2017, the percentage of Florida's small businesses defaulting on loans has not changed. Of the 18 major industries, 9 improved and 9 worsened.
PayNet's Small Business Default Index (SBDFI) for Florida stood at 2.54% and was unchanged from February. Compared to the national SBDFI level of 1.87%, Florida's SBDFI was 67 basis points higher. Financial health is weaker than a year ago in the state despite the recent downturn in defaults. Year-over-year, Florida's SBDFI increased 65 basis points, which was a significantly higher upturn than the 25 basis point increase displayed by the national SBDFI.
The industries with the worst default rate in Florida were Transportation and Warehousing (6.39%); Professional, Scientific, and Technical Services (3.23%); and Health Care and Social Assistance (3.13%). Nationally, Transportation and Warehousing had a default rate of 4.49%, with a difference of +1.24% compared to the prior-year variance of +1.18% in Florida.
At 81.6, Florida's PayNet Small Business Lending Index (SBLI) fell 0.1% from last month's state level and was 17.0% below the national SBLI level this month. Small business borrowers are being cautious and holding off on new investment.
"Slower borrowing and investment by small businesses reflect caution regarding future demand," states William Phelan, president of PayNet.
Source: www.paynet.com
Share:
---
Categories: Business Finance, Commercial Banking, Lending and Borrowing, Banking, Finance, Insurance
Tags: Economy, Florida Small Business Credit Trends, GDP, PayNet, Small Business Credit Report, Small Business Default Index, Small Business Lending, William Phelan
---