Small Business Borrowing in Florida on the Rise in October - PayNet
Press Release
-
updated: Dec 18, 2017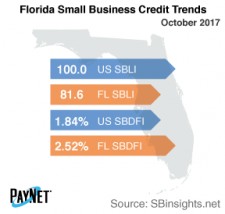 CHICAGO, December 18, 2017 (Newswire.com) - PayNet, the premier provider of small business credit data and analysis for the commercial and industrial lending industry, reports that in October 2017 borrowing is improving in Florida, with 14 of the 18 major industries rising in the state.
The PayNet Small Business Lending Index (SBLI) for Florida registered at 81.6, improving 1.5% from the previous month's state level, but 18.4% lower than the national SBLI level of 100.0 this month. The index is basically unchanged from a year ago.
Admin & Support and Waste Management & Remediation Services (20.6%); Accommodation and Food Services (12.3%); and Construction (8.1%) were the industries with the largest improvement in lending activity over the past year in Florida. Nationally, Admin & Support and Waste Management & Remediation Services grew by 5.0% year over year.
PayNet's Small Business Default Index (SBDFI) for Florida ranked 49th nationally at 2.52%. After a comparable performance to the previous month, Florida's SBDFI was 68 basis points higher than the national SBDFI level of 1.84%. Year-over-year, Florida's SBDFI climbed 16 basis points, which was a much sharper upturn than the 2 basis point increase exhibited by the national SBDFI.
"Time will tell how these conditions will affect Florida's economy going forward," states William Phelan, president of PayNet.
Source: PayNet
Share:
---
Categories: Economy, Small Business, Local News, Commercial Banking
Tags: Credit Trends, Economy, Florida, SBDFI, SBDI, SBLI, Small Business
---