Skyway Technologies and Berg Holdings to Establish Urban Air Mobility Vertiport Network in Northern California
Press Release
•
Oct 2, 2023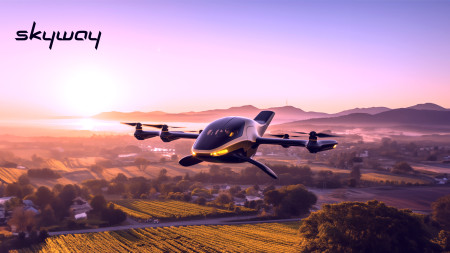 San Francisco to Get Urban Air Mobility eVTOL Flight Services
Vertiport Operations to Be Expected by Major Developers in the Region
Skyway to Become Leading Vertiport Technology Service in California
SAN RAFAEL, Calif., October 2, 2023 (Newswire.com) - Skyway Technologies (Skyway), a pioneering vertiport infrastructure and planning company in the Urban Air Mobility (UAM) industry, and Berg Holdings (BH), a long-time Sausalito-based Bay Area real estate developer, are pleased to announce a strategic partnership to accelerate the development of a comprehensive network of UAM vertiports in the Bay Area and elsewhere in Northern California.
Key locations within Skyway and Berg Holdings' vertiport network rollout plan will support eVTOL industry development and convenient and speedy passenger and cargo delivery between Mountain View, Marin County, Sonoma County, San Jose, and locations along the East Bay I-680 corridor. The second stage of development will include other complementary and necessary locations in the Bay Area and throughout Northern California. Each vertiport site is designed to support relevant UAM use cases specific to that location, to provide required levels of service, to be integrated into the existing legacy airspace traffic, and to be agnostic to eVTOL vehicles, and is intended to be certified by the FAA and in place to support anticipated certified commercial eVTOL flight coming mid/late 2025.
"The Bay Area has always been about pioneering and progress, with horizons to be navigated as well as admired. Berg Holdings looks forward to assisting Skyway in the pursuit of common-sense sites and regulations to make local aero mobility more equitable, efficient, safe, green, and enjoyable," said Carlo "Carlito'' Berg, Managing Director, Berg Holdings.
Skyway and Berg Holdings see the slow-paced UAM infrastructure development marketplace as a unique opportunity to leverage Berg Holdings' substantial real estate portfolio for ideal UAM vertiport destinations. BH views the partnership with Skyway and its comprehensive vertiport solutions set as a path to maximizing its market share, allowing Skyway to deliver the necessary UAM technology services to plan for and operate vertiport facilities while constantly analyzing other potential locations that benefit ideal regional and community UAM vertiport development strategies. This partnership will leverage Skyway's extensive knowledge in vertiport site selection, further expanding the scope of its vertiport infrastructure planning practice.
About Skyway
Skyway, an Urban Air Traffic Management (UATM) operation center and air traffic navigation Provider of Services for UAM (PSU), provides eVTOL and unmanned aircraft airspace mission planning services, vertiport airspace management services, autonomous vertiport ground services, and professional vertiport planning and development for public/private/hybrid clients. Learn more about Skyway and its latest partnerships and innovations by following the company on all social platforms or by visiting www.goskyway.com.
Source: Skyway