SkyWatch Announces Availability of SatelliteVu High-Resolution Thermal Imagery on EarthCache
Press Release
•
Sep 19, 2023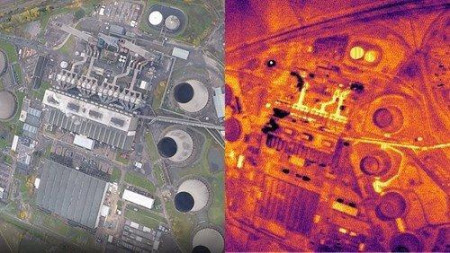 KITCHENER, Ontario, September 19, 2023 (Newswire.com) - SkyWatch, a leader in the remote sensing data technology industry, announced today its partnership with SatelliteVu ("SatVu"), a UK-based provider of high-resolution thermal (infrared) imagery. The addition of SatelliteVu's thermal imagery to SkyWatch's EarthCache platform enables customers to leverage high-resolution, precision imagery for climate, environmental, industrial, and intelligence and defense applications.
SkyWatch's core mission is to make remote sensing data accessible, affordable, and standardized. SkyWatch launched the market's first API for commercial satellite data over five years ago and has served millions of square kilometers of imagery from 400+ satellites to thousands of organizations worldwide.
"We believe that the best way to understand our planet is to look at it from space," says James Slifierz, CEO and Co-Founder at SkyWatch. "But not everything we need to know about Earth can be seen with the naked eye. Thermal imagery allows us to understand what's going on on our planet in ways we've never been able to understand before, and we're thrilled to deliver these insights to our customers through our partnership with SatVu."
As "the world's thermometer," SatVu offers high-resolution thermal imagery and video at unparalleled accuracy, frequency, and resolution. Data from SatVu's HOTSAT-1, which launched in June 2023, will enable industries, organizations and governments to take urgent and critical action in the areas of climate change, energy efficiency, and intelligence.
"We are delighted to partner with SkyWatch—together SatVu's data and SkyWatch's EarthCache can bring a game-changing shift to Earth Observation capabilities using thermal imaging," says Anthony Baker, Founder and CEO at SatVu. "As we jointly move towards a positive NetZero future, bringing high-resolution thermal data to the table means we can deliver huge opportunities for a better managed world in industries such as the Built Environment, Defence and Intelligence and Industrial Activity Monitoring. You can't change what you can't see; thanks to SatVu, we can now understand a lot more about where we can make changes in order to stop heat loss and decrease emissions."
SatVu data will be available via the EarthCache platform in early Q4 2023. To learn more and get started with EarthCache, visit skywatch.com/earthcache.
About SkyWatch
SkyWatch is changing the way Earth observation and remote sensing data is managed, distributed, and accessed. We've created the first geospatial platform to support the full remote sensing value chain, from data management and distribution for remote sensing data providers, to solutions to help organizations easily source, integrate, and manage remote sensing data.
Source: SkyWatch