Skinuva Scar: The World's Most Advanced Scar Cream
Press Release
•
updated: Apr 19, 2018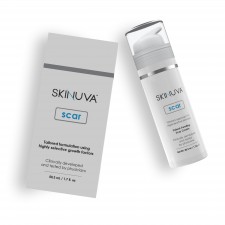 LOS ANGELES, April 19, 2018 (Newswire.com) - Skinuva is a revolutionary new scar cream that is the first to use highly selective growth factors in its unique formulation. It is arguably the most advanced scar cream formulated, where clinical studies have shown that it performed two times better than regular silicone cream. The product is now available to physicians only. It was developed and formulated by Dr. Christopher Zoumalan, a board-certified Beverly Hills Oculoplastic surgeon and his team of chemists and scientists. Skinuva has been extensively clinically tested in hundreds of patients who have seen incredible improvements in the appearance of their scars.
"There has been a significant lack of advancements in the topical scar cream market over the past 15-20 years. Not much has been added to topical scar creams besides differing formulations of silicone creams and gels," says founder and lead investigator of the Skinuva trials, Dr. Zoumalan. "Given my background in research and managing scars in the clinical setting, I wanted to provide the most advanced scar cream out on the market."
Some of the highlights in Skinuva's performance are:
Softens and flattens the appearance of scars

Reduces the appearance of redness and discoloration

Relieves itch and discomfort associated with dryness

Sunscreen may be worn over

Gentle for all skin types

No dyes, oils or parabens
In our double-blind, randomized, multi-center comparison study, our patients saw a two-fold improvement in the appearance of their scars when using Skinuva over silicone cream. Out of the 45 patients participating in the study, 10 percent dropped out because they saw such a noticeable difference in side of their scars that Skinuva was being used on, and preferred to use Skinuva on both sides of the scars that were being tested. On average, there was a 73 percent improvement in scars that were treated with Skinuva.
Skinuva is currently available to doctors. To place an order, please visit www.skinuva.com to learn more. Patients wishing to purchase the product can contact us to find a doctor near them who sells Skinuva.
Resources:
Topical Agents for Scar Management: Are They Effective?
Zoumalan CI, Tadayon SC, Roostaeian J, Rossi A, Gabriel A. Safety and Efficacy of a Novel Scar Cream Consisting of Highly Selective Growth Factors within a Silicone Cream Matrix: a Double-Blinded, Randomized, Multicenter Split-Study. Submitted 2018.
Source: Skinuva Scar
Related Media
Related Files
Additional Links