SkinGlo Making Aging an Option With Advanced Skincare Solutions
Leading provider of innovative beauty solutions, SkinGlo, introduces its Anti-Aging Kit to help users rediscover their youthful beauty. SkinGlo company, announces an early launch of its Black Friday Deals.
Press Release
-
updated: Nov 21, 2018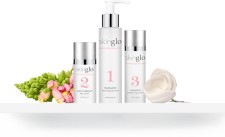 ST. LOUIS, November 21, 2018 (Newswire.com) - SkinGlo is an innovative beauty solutions provider offering advanced skincare to people, particularly women, who are looking to restore their youthful beauty and somewhat make aging optional. SkinGlo has recently introduced its unique Anti-Aging skin care kit designed to help users eliminate wrinkles and restore the radiance and vibrancy of the skin, without causing any damage to the skin's health unlike many of the skincare products currently available on the market.
One of the most common challenges faced by women across the globe regardless of their location or race is wrinkles. While wrinkles might be a reminder of the clock, studies have shown that the impact of aging on the skin can be significantly reduced even to the point of somewhat stopping the clock from ticking and helping people look young again. Unfortunately, many of the available beauty solutions on the market have not particularly addressed the needs of consumers as they often contain chemicals that have been identified as being harmful to the skin. This is where SkinGlo is looking to make a difference with the introduction of its wide range of skincare products.
The aim of SkinGlo is to help users to rediscover their youthful beauty, consequently empowering them to become confident and comfortable in their own skin. SkinGlo currently offers two packages – the one-time purchase package and the popular monthly subscription deal. Each package gives buyers access to the products from SkinGlo.
SkinGlo currently offers 3 different products made from safe, natural and ethically sourced ingredients to help users banish aging forever, boost their confidence, and rediscover their youthful look. The products are Radiance Boosting Cleanser, Multi-Bright Eye Cream, and Luminous Brightening Serum. The products are designed to ensure radiant skin without compromising the health of the skin.
Company CEO Sam Bhimi says, "SkinGlo is a 3 Step Process. anti aging facial and skin care products Radiance, Eye Cream and Serum may help diminish signs of aging, reduce fine lines and wrinkles, and keep complexion looking brighter and younger."
SkinGlo and its products are already garnering reviews from different users across the globe, which has led to a significant growth in SkinGlo's following on different social media platforms.
More information about SkinGlo and the innovative skincare products from the brand can be found on their website. SkinGlo is also available across several social media platforms including Facebook, Twitter, and Instagram.
About SkinGlo
SkinGlo is a skincare brand that aims to help women across the globe eliminate wrinkles and restore their youthful beauty, consequently making aging optional. The brand currently offers a wide range of products to help users shine, sparkle and radiate irresistible beauty.
Contact Information: 
SkinGlo.com
USA
Website: http://skinglo.com
Source: SkinGlo
Share:
---
Categories: Beauty and Cosmetic Products
Tags: anti aging, beauty, cosmetics, luminous, multi-bright, radiant, skincare, skinglo, uv protection, wrinkles
---