Six Tips on Why Awards Are Important
The Santa Choice Awards™ program, a service created by parenting experts that reviews all types of products for families and promotes them throughout the holiday season is now accepting submissions. Enter Online Today
Press Release
-
Jul 20, 2016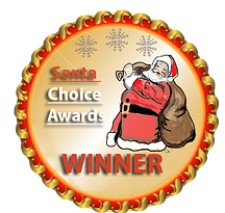 Ringoes, NJ, July 20, 2016 (Newswire.com) - Every industry has award programs & they are growing, not going away. That is because your peers, employees & customers care about them!
Six Tips On Why Awards Are Important
1.)  An award seal given by a 3rd party organization provides immense credibility to any industry item and/or it's firm. Examples include the respect given by winners of awards such as: The Grammys, J.D. Power & the Good Housekeeping Seal of Approval. 
2.) It's been proven over and over again that consumers will purchase an award-winning product that displays an award seal over another similar product without an award seal.  
3.) Award seals open up distribution relationships! Retailers look for and consider award-winning products over other proposals. It also sends a message to the retailer(s), that the owner of the product will assist in the marketing and PR of the product, which is key and invaluable to a retailer.  
4.) Award programs usually display and promote their award winning items both online and in print, which adds SEO lift and opens opportunities for free PR.  
5.) Proactive award winners usually get at least a feature story in their local and regional media and an award seal recipient has the opportunity to issue a press release to the general media. 
6.) Award winners are able to add the seal to their banners and trade show backdrops (Step and Repeats) which calls attention to buyers and the media.
Remember, If Santa Approves, It Has To Be Good!
Enter up to five products today for $ 500.00!  Just in time for the holiday's!
​Enter Online Today &  Use Promotional Code:  SAVE20PERCENT!:  http://www.santachoiceawards.com/#!how-to-submit/cjg9
​Related Articles:
Bloggers Bash New York City With a Myriad of Exciting New Products! Click to View the Photos!
View Funnybone Toys New Santa Choice Award Winning Products: https://www.funnybonetoys.com/wp-content/uploads/2016/06/Marriah-Media.pdf
​Learn More About Gina LoBiondo:  http://www.ginalobiondo.com/
Source: Marriah Media
Share:
---
Categories: Books, Video Games, Consumer Goods, Toys
Tags: Blogger Bash, Colleen Kelly, Funnybone Toys, Jeanne Murphy Public Relations, LeapFrog, Marriah Media, Pegasus, Pokemon, Santa Choice Awards, Sweet Suite
---