Six Maritime Announces the Grand Opening of Their Critical Training Laboratory Firearms Simulation Range
New Era for Military, Police and Security Training in San Diego Begins April 11, 2018
Press Release
-
updated: Apr 4, 2018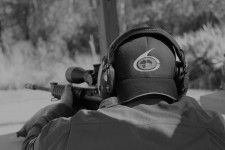 SAN DIEGO, April 4, 2018 (Newswire.com) - With a blast of gunfire, sailors, law enforcement officers and security guards fire not bullets, but invisible lasers inside Six Maritime's Critical Training Laboratory ("CTL" - think "Control"), a simulation firearms skills trainer. 
The noise is one of many factors that make the indoor range seem like the real thing -- such as the M9 pistols, M4 rifles that are identical to actual weapons, down to the weight of the magazines -- except for the fact that they can't use bullets; they cycle with harmless gas. 
"It's cost-saving equipment that is as close to the real thing as you can get, without the dangers of live fire," said Joseph Allen, chief executive officer and co-founder of Six Maritime.
About 6,000-plus service members, law enforcement and security personnel from the San Diego area can use the CTL each year, Allen said, as a way to save time, money and improve skills that are hard to realistically duplicate on a live fire range, like judgmental training. "You can train, in a safe way, to improve officers' analytic skills that are involved in the shooting process. This is the best way to ensure weapons are used only when absolutely necessary, thereby keeping everyone - on both sides of the firearm - safer."
The simulated weapons meet Navy, Army, Air Force and Marine Corps specifics for operation, weight and functions; they even kick back like real weapons and make the same noise, although the volume can be controlled in the enclosed space. Additionally, training can be year-round, without the logistical requirements of an actual range, Allen said.
"I think it's great for familiarization," said Paul Robinson, Six Maritime's chief operations officer, co-founder and retired Navy SEAL, who has trained on the M9 and M4 at the CTL. "You can adjust in a more comfortable environment, so when you actually go out there to qualify, you are quite familiar and comfortable with your weapon system."
The grand opening is April 11, 2018: 11 a.m.-2 p.m. for VIPs, 4-7 p.m. for the public at Six Maritime's new San Diego office located at 1733 National Avenue in Barrio Logan. Afterwards, fleet units, law enforcement and security guard companies can book the six to 10 lanes at the Critical Training Laboratory, or qualify personnel in sustainment training on the M9 and M4 or practice shoot/don't-shoot scenarios and Judgmental Training, Run & Gun and small-unit tactics with the weapons they would have in the field, Robinson said.
CTL can also save the Department of Defense or other government entities money that would have been spent on ammunition, transportation, targets and personnel needed to conduct a live fire range, such as additional range safety officers and medical corpsmen. Saving tax dollars, training time and improving controlled use of weapons - it's an all-around win-win-win.
Many exciting programs are being rolled out, such as Steel Challenge, skills drills, Pro shoot and other customized courses. CTL plans to open limited experiences to the public after hours and weekends for special events, gamers, parties, competitions, tournaments, ROTC unit challenges and more.
Six Maritime has led the security industry in training and services for years; their CTL is another example of excellence materialized.
See more on the web at Sixmaritime.com or contact the Director of Business Development at info@sixmaritime.com or (850) 776-4306.
Source: Six Maritime Inc.
Share:
---
Categories: Military and Defense, Police Officers
Tags: Excellence, Firearms, Future, Military, Police, Safety, Technology, Training, Win-win
---