Site Steering Launches a Long-Awaited Multimedia Autoresponder for Mobile
Sitesteering has launched an autoresponder platform that can send SMS, MMS, voice broadcast, and email messages through a single interface and login. Additionally, the different message types can be sent through a single sequence of messages, which is believed to be a unique feature that is not available on other single-dimension autoresponder platforms.
Press Release
-
Jun 7, 2016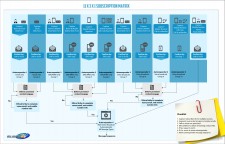 Irving, TX, June 7, 2016 (Newswire.com) - Site Steering's multimedia autoresponder can help save time and money by automating a multitude of marketing messages and information delivery tasks. Quite often, questions are asked by prospects and clients. Inquiries are made to request specific information, or to receive coupons or discounts. Sometimes, people simply need encouragement, advice, or inspiration. Businesses, churches, political campaigns, direct marketers and others can automate many of these repetitive tasks, and in many cases, improve results through consistent, on-time delivery. Message sequences can be automated and set up for delivery over time or individual messages created on the fly for immediate delivery.
Site Steering was created by Brad Barton, owner and founder of My Tech Guru, an outsource hardware services provider. According to Barton "I have been using email autoresponders in my own business for fourteen or fifteen years, however, over the last several years email open rates have continued to decline. Then about 5 years ago, text message marketing landed on my radar and I hired a group of developers to create a system that I could use in my own businesses. A couple years ago, I had them continue working to create a cloud-based multimedia autoresponder system that is easy enough for nearly anyone to use." In addition to My Tech Guru, Barton also created a DVD program to help train technicians to work on commercial quality laser printers in 2005, which is sold online through a sister company called Printer Coach.
SMS text messages arrive at the recipient's mobile device within moments, but more importantly, statistics show that nearly 98% of those recipients will read those SMS messages within about three minutes after receipt. There are very few mediums that can boast that type of targeted penetration. Voice broadcasting adds an element of personalization that is not easily duplicated in a written or printed medium. Voice broadcasting, sometimes misinterpreted as robo-calling, is the delivery of a recorded audio message to a cell phone or land line phone. Barton commented "Both SMS and voice broadcasting are powerful technologies in their own right, but when used in combination they become a formidable tool to help earn trust and build loyalty. The key is learning how much is too much and how infrequent is too little for your specific audience." According to Sensis' 2015 data, there are more smartphones, tablets, and mobile devices than there are people in the world, indicating that the global population has adopted mobile as their means to stay connected. Barton added "The problem isn't deciding on the best way to get your message out; it's reaching your prospects and customers directly where they are at the most, which is on their smartphones and other mobile devices. And I'm not talking about using traditional advertising methods, such as popup ads for mobile devices. You need to create a relationship as personal and direct as the great catalogue marketers of the 1950's and 1960's did. Without that relationship, your advertising dollars are constantly being used to reach the same people. Those people should already be on your direct contact lists. Advertising dollars should be being spent on attracting more new prospects and customers to your lists."​
Similar to how email has become regulated over the years, SMS text message marketing and voice broadcasting are also regulated, to help prevent Spam messaging. To be compliant, commercial SMS or MMS marketing messages and voice broadcast messages must be sent only to recipients that have affirmatively agreed to receive the message. While you should do your own research and consult an attorney, if necessary, it generally means that the recipient must have "opted-in" and agreed to receive the messages from you. The Site Steering platform enforces these rules generally, meaning that subscriber lists are built using accepted permission-based methods. For example, if you text a keyword to a Site Steering system number, you will receive a reply requiring that you text back the word "yes" before you receive the information that you requested. Voice broadcasting is similar, requiring that you press the number "1" before you receive the audio content that you requested. And email requires that you click a link to confirm your request to receive information. If affirmative assent is not received, the Site Steering system will not deliver any other communication to the recipient. These Spam safeguards allow users of the Site Steering platform to build proprietary lists of customers and prospects. "Why would anyone want to build a list in any other way, or use unknown lists to send messages to? Remember the term junk mail? When catalogue list owners began selling their customer lists they created Spam snail mail, and you couldn't do anything about it. With modern media you can. Treat your prospects and customers with the same respect that you expect for yourself and they will reward you for it" Barton noted about confirmed opt-in practices.
The Site Steering multimedia autoresponder platform was opened to the public in January 2016 after several months of beta and alpha testing. Initially, phone number purchases and message delivery locations were restricted to the United States and Canada. The company indicated that they wanted the roll-out confined to a small enough geographical area to handle any issues that arose quickly and efficiently. Barton stated that "Testing with a relatively small group is not the same thing as a live multi-user environment. Basically, we wanted to make sure that we could pick up the phone and talk to anyone that was having trouble within a very short amount of time. At this point, we will be adding another eight to ten countries where you can purchase local numbers over the next few weeks, and removing the delivery restrictions, so that SMS, MMS, and voice broadcast messages can be delivered nearly anywhere in the world." ​
Pricing on the Site Steering platform has been somewhat fluid, in terms of changes to available plans. Currently posted Site Steering multimedia autoresponder plan pricing is similar to popular email only autoresponder plans. Barton responded that "I wanted to make sure that I drove as many people in as possible, and that required tweaking plans and pricing to the point that it didn't make sense not to select Site Steering as the autoresponder that you would choose. But those days are about to go away. Current customers will be grandfathered at their current rates, but plan pricing will begin to reflect reality as our account plans reflect global delivery penetration over the next few weeks. We have a handful of really great, exclusive features that you can't get with competitors plans at any price. For example, nobody else can deliver SMS, MMS, voice broadcast, and email messages through a single message sequence. Anybody that understands the importance of an autoresponder understands the importance of a message sequence. Try synchronizing a message sequence through two or three different platforms. It simply can't currently be achieved elsewhere." You can read more about the Site Steering multimedia autoresponder platform at www.sitesteering.com.
###
Source: Site Steering
Share:
---
Categories: Business to Consumer, Entrepreneurship, Marketing, Sales and Re-sale, Franchising, Business News
---