Sisense and Periscope Data Build on People-First Culture With Recognition as a Top Company for Diversity, Leadership, Women
Named No. 8 "Top Workplaces" by Bay Area News Group, A+ Ratings by Comparably.com
Press Release
-
updated: Jun 28, 2019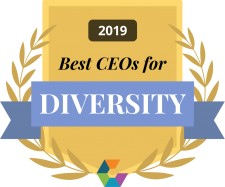 NEW YORK, June 28, 2019 (Newswire.com) - ​Periscope Data by Sisense picked up several awards this week in recognition of its strong company culture. The company was ranked by Comparably.com as one of the top companies in the U.S. in several categories, including the best CEOs for women, best CEOs for diverse employees and best leadership team among small and mid-sized businesses. The company was also named No. 8 on the Bay Area News Group "Top Workplaces" list.
These awards build on a series of recent acknowledgements and awards for Sisense, including a No. 1 ranking in the BI market for workforce diversity by Gartner, recognition in Forbes for its focus on inclusivity, rankings as a top place to work by the Business Intelligence Group, and the San Francisco Business Times, and included among the "10 Coolest BI and Data Analytics CEOs" by Solutions Review.
Last month, Sisense and Periscope Data combined forces in a merger that creates the world's leading modern platform for analytics builders, bringing power to the builders and data insights to everyone throughout a business. The combined companies not only formed an ideal product fit but also an extremely well-matched culture fit, with both companies' history of fostering diverse work environments and a people-first culture.
"This has been an exciting year for our team as we continue to build a culture at Sisense that reflects our shared values," said Harry Glaser, Periscope Data CEO and Co-Founder, now President of Data Business at Sisense. "Throughout our growth, we've kept our commitment to a culture we can be proud of, with an environment that supports and values people of all backgrounds. Those continue to be priorities for us at Sisense, and we're very happy to be recognized again by the Comparably team."
"Sisense has always focused on building a workplace that encourages diversity of thought, innovation and people," said Amir Orad, Chief Executive Officer of Sisense. "I'm so proud of the outstanding work that our teams have done to fulfill that mission, and we're honored to have our team recognized with these awards."  
This is the third consecutive year the company has been recognized as a Top Workplace, with its No. 8 ranking as its highest placement on that list to date. Earlier in 2019, Comparably named it among the Best Companies in San Francisco, Best Sales Team, and Best Company Outlook for 2019. The company has also been recognized in the past year among the nation's top companies for company culture, compensation, perks and benefits, professional development and happy employees.
"Each year, Comparably Awards aim to recognize the best leaders for workplace culture and diversity, as rated by employees," said Comparably CEO Jason Nazar. "The exceptional CEOs on this year's lists collectively inspire their teams to do their best work, while creating positive, inclusive and diverse workplaces for their employees."
Comparably's ratings were derived from nearly 10 million sentiment ratings by employees across 50,000 U.S. companies. Rankings were based on CEO approval ratings by female employees for the best CEOs for women list, by racially diverse employees for the best CEOs for diversity list, and by sentiment rankings of executive leadership and managers for the best leadership team list. Bay Area News Group rankings were based solely on surveys about the workplace completed by employees, with 85 total companies recognized on this year's list.
About Sisense
Sisense empowers the builders of analytic apps with powerful tools to simplify complex data, and deliver insights to everyone inside and outside their organizations. Sisense lets builders collaborate on a single platform, delivered in a hybrid, cloud-native environment with the industry's lowest cost of ownership, to create true democratization of data and analytics. Sisense has thousands of clients across the globe, including industry leaders like Tinder, Flexport, Philips, Nasdaq and the Salvation Army. Learn more at www.sisense.com.
About Comparably
Comparably is a leading workplace culture and compensation site with a mission to make work more transparent and rewarding. Employees can access the platform's salary comparison tool, rate their companies and CEOs, and see what workplaces are really like through the lens of comprehensive and structured data based on gender, ethnicity, age, experience, department, location, education and company size. With 10 million ratings from employees across 50,000 U.S. companies since its 2016 launch, Comparably has become one of the most trusted third party sites for workplace culture and a fast-growing SaaS solution for employer branding. For more information on the platform, workplace culture studies, and salary reports go to www.comparably.com. For Comparably's annual Best Places to Work Awards, go to www.comparably.com/awards.
Source: Sisense
Share:
---
Categories: Business Technology
Tags: Bay Area News Group, Best Companies in San Francisco, Comparably, Periscope Data, Sisense, Top Workplaces
---